AT&T (T) - Price Action Suggests Bearish Breakout
So far in 2017, AT&T (T) has been trading in a range between roughly 40.25 and 43. However last week's price action suggests we will see price break below this range.

AT&T Daily Chart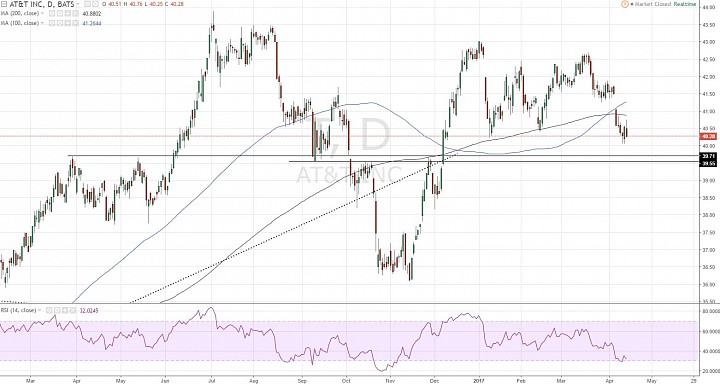 (click to enlarge)

Support Cracked:
- Last week, we saw price dip into a low on the year. 
- However, price still closed above 40.25, so we can't say that there is a clear breakout to the downside.
- Still, when we look at the 4/13 and 4/15  (Thursday and Friday) candles, we can see that an initial bullish bounce off of 40.00 is being negated.
- While Thursday's bullish candle was a bullish engulfing candle from support, Friday's bearish candle closed below the middle of the bullish candle, suggesting that the initial push has been exhausted already.

Next Support Around 39.60:
- Looking at the daily chart, we can see that there is a support/resistance pivot area between 39.55 and 39.70, or around 39.60.
- I think we can expect support here, especially if the RSI shows a bullish divergence with price.
- However, because a range was broken, we might want to limit the bullish outlook coming from this 39.60 area.
- For example, the 41.50 level is a key resistance now, and I would limit a bullish target to 41.50. 
- A break back above 41.50 on the other hand could revive a bullish outlook. But for now, with price breaking a range support, the market is neutral/bearish.