Boston Beer (SAM) Pops 15% after earnings report
Just before the Friday (7/22) session, I noted that Boston Beer (SAM) was a good candidate to buy on a dip. After all, it broke above a price bottom, and was essentially testing this price bottom as support. 

SAM Daily Chart 7/25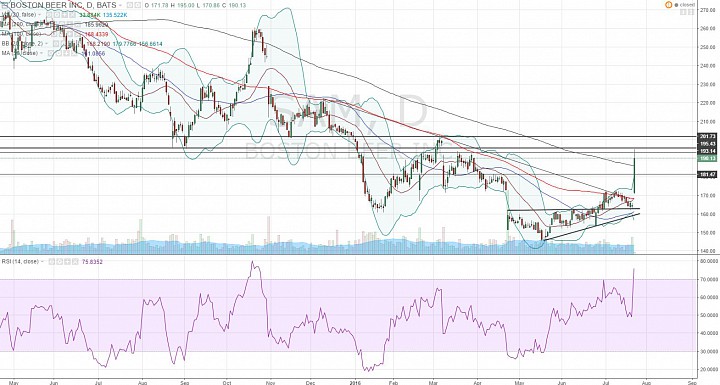 (click to enlarge)

Trade idea:
The trade idea was that SAM should remain bullish if it can hold above 160. 
Therefore, a stop below 160 was proposed. 
The conservative target was around 181, with another target around 190. I didn't note 200, but the 200-202 area would be the 2016-high, so that should have been the most aggressive bullish outlook for the year. 

Strong push:
It looks like the market went right through the targets I proposed, and is threatening to push towards the 2016-highs. 

Earnings report:
Here's what fortune.com had to say about the brewer.
Here's Why Shares in the Maker of Sam Adams Beer Are Foaming Over

Beer drinkers are a fickle bunch.

Boston Beer Company SAM 15.43% stock popped more than 15% on Friday after the Sam Adams beer brewer blew the cap off Wall Street's expectations.
While Boston Beer reported that revenue and profit lost some fizz in the second quarter, declining 3% and 11% respectively, analysts were expecting a bigger decline. The company had $244.8 million in sales during the period, with nearly $27 million in profits, or $2.06 per share.
Analysts had forecast $239 million in revenue and less than $25 million in income, or $1.95 per share.
The brewer of Samuel Adams beer has been struggling as new, smaller competitors continue to seize more share in the craft beer market. That trend continued in the second quarter, Boston Beer said, as drinkers have increasingly developed a thirst for new styles of beer, and drank less of Samuel Adams' traditional seasonal beers and its famous Boston Lager.
The explosion of craft beer in recent years has also made the industry much more challenging for some of the older stalwarts like Sam Adams. It now competes with more than 4,200 other craft brewers in the U.S., which together make up about an eighth of the overall beer industry, according to the Brewers Association.
Boston Beer has also had to contend with the fickleness of its customers, who have been less loyal to former favorites now that there are so many other options. Though the company said its new beverages, such as Samuel Adams Rebel Grapefruit IPA, had been a hit with drinkers, customers weren't yet guzzling them enough to make up for the fizzle in its flagship beers.
Though sales of its hard cider brand Angry Orchard also fell, Boston Beer pledged to get it growing again through increased investments, including an advertising and promotional campaign that will be overseen by the company's newly hired chief marketing officer, Jonathan Potter.
Still, the company recognized that it is still at the mercy of drinkers' constantly changing tastes. "The trends for larger craft beer brands and the hard cider category, and the full impact of our new brand introductions remain difficult to predict," Boston Beer CEO Martin Roper said in a statement.