USD/CAD Long Entry at 1.3075 Worked; Now What?
A couple of weeks ago, we were looking at the $USDCAD pair, and discussed a channel-support trading strategy. Essentially, the pair has been in a rising channel since early 2018, and price was falling towards channel support.
USD/CAD - Assessing Trade Idea at Channel Support Around 1.3050
More precisely we said:
"Let's set up a trade idea to buy around 1.3075 and another position around 1.29."
So far, the 1.3075 triggered, so if you entered this trade, you would have a 1/2 size long position.
USD/CAD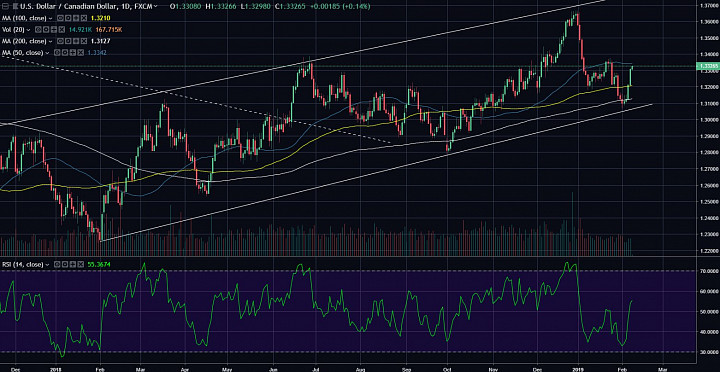 (click to enlarge)
Bulls in Charge:
- The fact that price respected the channel support suggests that bulls are still in charge of this market.
- That means, we can anticipate upside back towards the 1.36-1.3650 high and even the 1.38 resistance area.
- I think at this point, we can start thinking about locking in profit, but don't get too trigger happy. The best idea could simply be nothing, and keep on with our original strategy
- But if we want to lock in profit, we should allow some elbow space to the downside, say towards 1.32. For now I am shifting my stop to 1.3150. This locks in 75 pips.
- Also, if price indeed fails to push above 1.34 and falls below 1.32, I think there could be more downside before bulls truly regain control of the market, so it might be prudent to lock in the profit and shift that dry powder to better use in a market where I am more confident of the market direction.