Metlife Inc. (MET) Failed Bullish Breakout Makes $46.40 Support Vulnerable
Metlife Inc. $MET has been in a bullish reversal attempt in 2019 since making a low at $38 at the end of 2018. After coming up to $48 and testing the $48-$49 resistance, the market said not just yet.
MET Daily Chart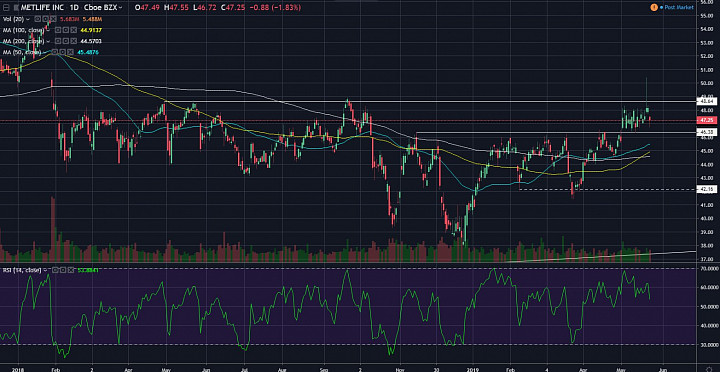 (click to enlarge)
Higher Highs and Lows:
- As we can see on the daily chart, price was bearish entering 2018.
- Then there was many months of sideways action before price broke down again in latter part of the year.
- In 2019 however, price has been making higher highs and higher lows.
- After a few months of consolidation under $46.40, price broke above this resistance in May.
Failed Breakout:
- However, this week's attempt to break above the next resistance in the $48-$49 area failed.
- On the daily chart, we can see that price actually pushed above $50 during the Tuesday (May 21st) trading session. However, it immediately retreated back below resistance at $49.
- As we wind down the week, price might be heading towards the $46.40 support/resistance pivot.
Vulnerable Pivot:
- We might attribute this failure to break higher to the general risk aversion that is caused by the current US-China trade war,m and this risk aversion could be significant.
- The failed breakout thus makes the $46.40 support vulnerable.
- I am anticipating further downside to $44.
My Trade Plan:
- In May, I entered a position in MET at $46.50, right above that support/resistance pivot.
- If price falls further, I have dry powder waiting at $44.
- In case the market remains sideways, I am splitting my allocation for MET between $44 and $39.
- A break below $38 would prompt me to close out and reconsider this bullish outlook.
- My target is in the $58-$60 area.
MET Weekly Chart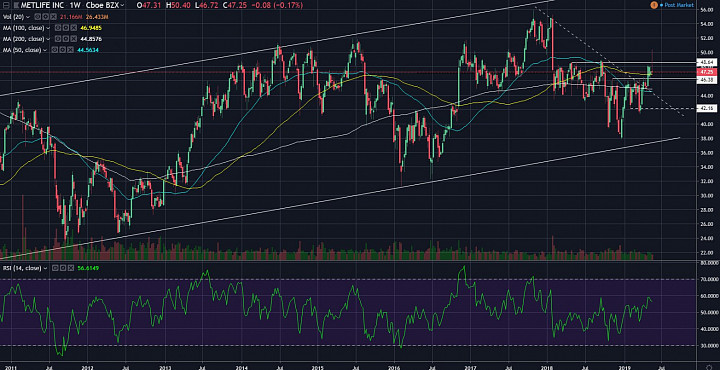 (click to enlarge)