Under Armour (UAA) Continues to Slide; $19-$20 Will be Key
Under Armour $UAA has been in a free fall after an earnings miss last week. It is extending that bearish reaction this week as the general market retracts as well. Here's a recap from CNBC last week:
Under Armour shares sink 15% on sales miss and lower forecast in North America
...
Here's what Under Armour reported for its fiscal second quarter ended June 30, compared with what analysts were expecting, based on data pulled from Refinitiv:
Adjusted per-share loss: 4 cents vs. 5 cents expected
Revenue: $1.192 billion vs. $1.199 billion expected
Under Armour reported a narrower net loss of $17.3 million, or 4 cents a share, compared with a loss of $95.5 million, or 21 cents per share, a year earlier. The loss in the latest period included a hit of a penny per share from its minority stake in a Japanese licensee. The results were better than the loss of 5 cents per share that analysts were expecting, according to Refinitiv.
Net revenue for the second quarter was $1.192 billion, up from $1.175 billion a year earlier but missing estimates for $1.199 billion.
Under Armour said apparel sales were down 1.1%, while footwear was up 4.7%.
...
---
UAA Daily chart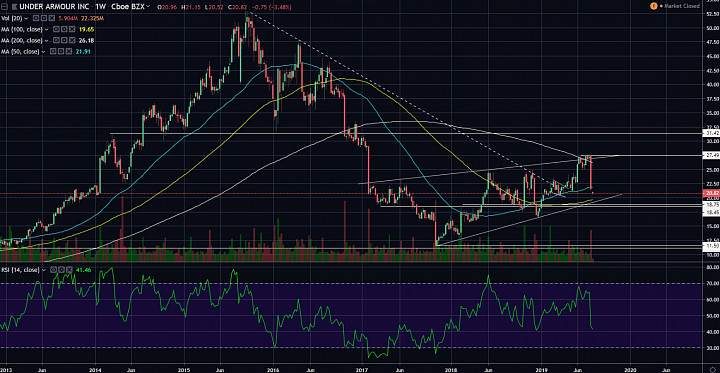 (click to enlarge)
Bears Still in Charge?
- Since 2018, UAA has been rallying. It looked liked it put in a price bottom and then broke above a falling trendline.
- However, price failed to push back above the 200-week simple moving average (SMA).
- Furthermore, the price structure since 2018 looks like a rising wedge pattern. If this support around $18.50 breaks, we might have a bearish continuation signal.
Key Support:
- As UAA trades at the crossroad, the $19-$20 area will be key support for the bullish scenario.
- The RSI should also hold above 40 in the bullish scenario.
- However, we can also anticipate some volatility around this area. For example, we can see a break below $19 or even $18.50 simply due to overall market conditions. If we see resilient price action to push UAA back above $20, we should have confidence in the bullish outlook.
- However, if price starts to anchor under $20, UAA might be in for another bearish correction to challenge the 2017 low around $11.50-$12.


I already have a decent exposure in UAA with an dollar average entry around $21. I am planning to add 50% more to my position around $18, which would make the dollar average around $20.