A Look at Morgan Stanley (MS), Goldman Sachs (GS), and Wells Fargo (WFC)
Morgan Stanley $MS h as been consolidating in 2019. After bounce from the 2018 low around $37, price stalled just under $49 in April/May and retreated. However, price didn't go back to that 2018 low. So within this consolidation price action, there has been a subtle bullish sign.
MS Daily Chart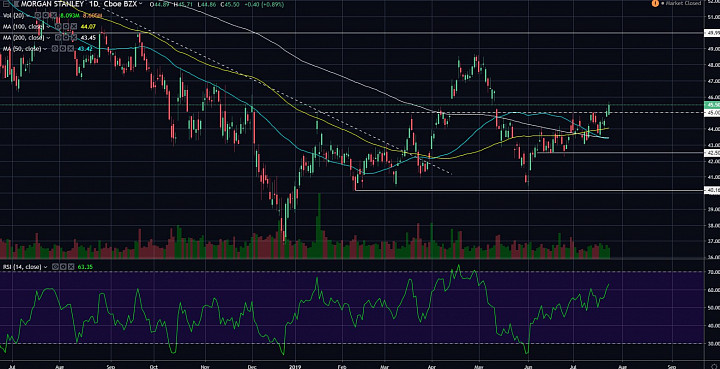 (click to enlarge)
Bullish Sign:
- Note that price already crossed above the cluster of moving averages. Price also recently bounced off the cluster of moving averages as support.
- Note that the RSI is also crossing above 60, which suggests loss of any bearish momentum in the May dip.
- Most importantly, price is breaking above a common resistance at $45.
- This opens up the the current 2019-high near $48.60. But if price can reach this high, I think it can extend to the support/resistance pivot at $50.

Meanwhile, Goldman Sachs is also surging. In fact many bank names are on the rebound in the past couple of weeks.
GS Daily Chart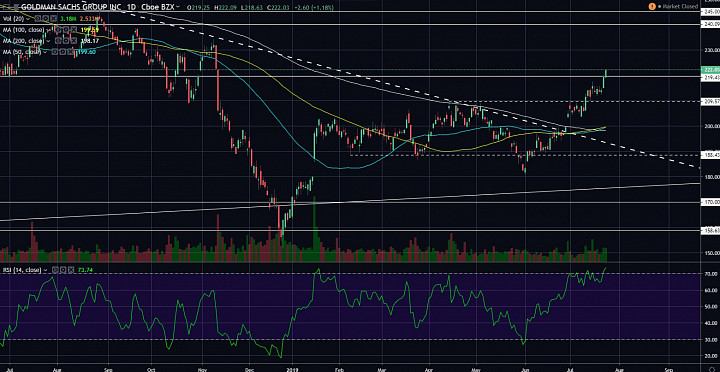 (click to enlarge)
Breaking Resistance Levels:
- GS has been consolidating for most of 2019, but recently broke into new highs on the year.
- It further extended above $220 this week. This was a previous support. If it held as resistance, we would say that GS is still in bearish mode.
- But this breakout confirms a bullish outlook towards the $240-$245 area with GS potentially returning into a bullish trend.
Wells Fargo $WFC is another bank name that is surging. The difference between WFC and the other bank names above is that WFC was signaling further downside before this sudden surge.
False Breakout in WFC (Daily Chart)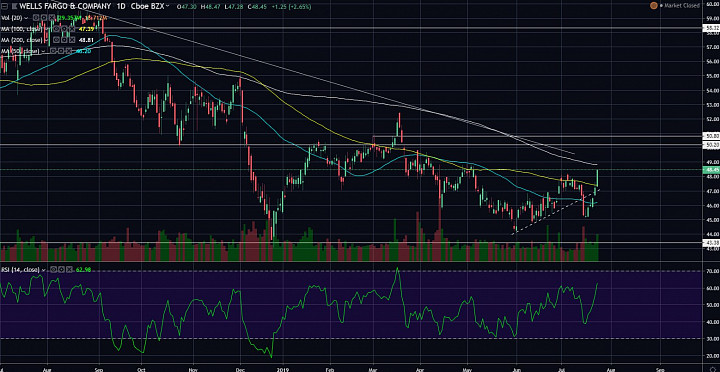 (click to enlarge)
False Bearish Break:
- There was a bearish continuation breakout at the start of last week.
- However, price immediately rebounded and is taking out the previous July high.
- Such a V-shaped bullish reversal suggests bears were weak. There is a good chance price will come up to challenge $50.
- If so, WFC would be above the 200-day simple moving average (SMA), a subtle bullish sign.
- I would take a break above $53 to really signal a bullish outlook. Then, if price starts to anchor above $49-$50, we can have more confidence in the strength of 2019 price bottom.