AUD/USD Near Key Resistance
The AUD/USD has been consolidating much of 2016. It should be noted that this consolidation came after completing a double top by the end of 2015. So, there is a shift from a bearish trend to at least a sideways market.
In 2017, price has been bullish and is now testing a key consolidation resistance area. 
AUD/USD Weekly Chart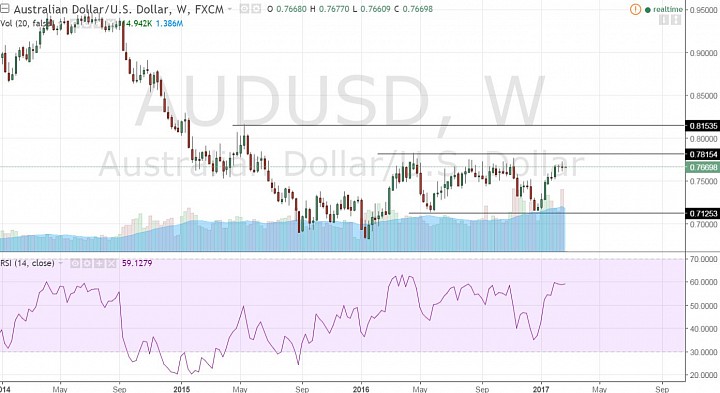 (click to enlarge)
Consolidation Resistance:
- As we can see on the weekly chart, AUD/USD has been held under 0.7820. 
- However, it has also held above 0.7125, which is a low above the previous lows which were below 0.70.
- A break above 0.7820 would likely be part of a bullish push towards 0.80, and possible the next resistance pivot near 0.8150. 
Watch for Short-term Retreat:
- I think 0.7815-0.7820 area is going to be a tough resistance.
- We are already seeing price stall the previous couple of weeks. Indeed I think we can consider selling around 0.78 with a target of 0.75. 
- If we see a price top form earlier, the trade will be less attractive in terms of reward to risk, but the same possibility of success because it is still a critical resistance play.

Waiting Until Price Tests Support:
- I think if price indeed finds resistance at or just under 0.78, there is a chance to slide to at least 0.75.
- Now, I would like to watch how the market reacts to this.
- If we get support around 0.75, I would be confident of an eventual bullish breakout above 0.7820.
- Otherwise, I would rather wait until price falls near 0.7125 to play the support there. This scenario could take months to develop, so let's first focus on the selling around 0.78 with a target around 0.75.