Palo Alto Networks Inc. (PANW) Showing Good Signs of Maintaining its Overall Bullish Trend
Palo Alto Networks $PANW has been retreating since making a fresh all-time-high just under $260 in late February. I May I noted key support around $220, then around $195-$200.

Palo Alto (PANW) Pulls Back to Key Pivot Area
Price held briefly above $220 before breaking it, but did find support again just above $195.
PANW Daily Chart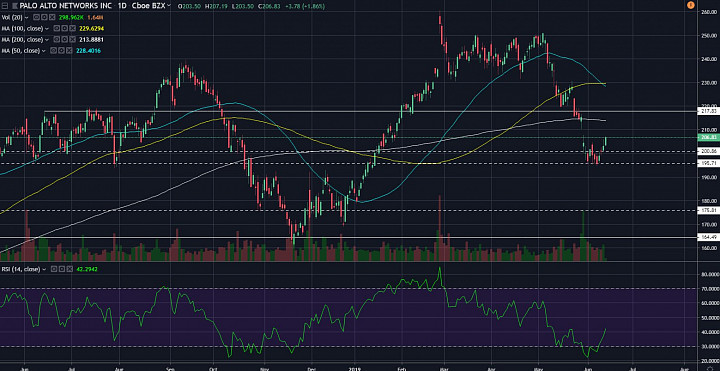 (click to enlarge)
Support Holding and Signaling a Bullish Market:
- Price fell below the 200-day simple moving average in May, and the RSI dipped below 30.
- These all reflect at least a short-term bearish trend.
- However, the overall bullish trend is still intact in my opinion. We have to look at the weekly chart to get this perspective.
- On the weekly chart, price is still trading above the 200-week SMA and the RSI is holding above 40.
- $200 is a key psychological level, and the $195-$200 area was a key resistance in 2015. Holding as support now would be a strong sign that this market remains bullish.
- I would first anticipate support around $220, but if a subsequent consolidation keeps price above $195, I think price would eventually push to at least the $235-$240 area, which is around the 2019 price top pattern.
- A break below $190 on the other hand opens up a lower pivot around $175-$180. $160 to $165 would be the most critical area for the long-term bullish outlook. But if the market is bullish, we probably won't see price dip back to those levels.
PANW Weekly Chart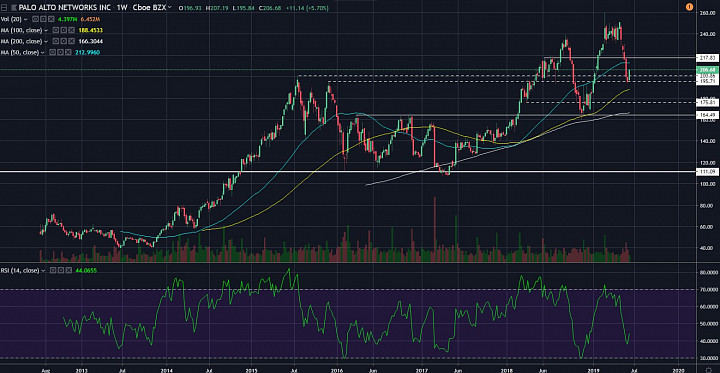 (click to enlarge)