Electronic Arts (EA) Has Upside from $70 Towards $90
It looks like the bearish market is taking a break, although the overall environment is still tentative. In this pause to the bloodletting, some names will find a bullish correction in the short-term. I think EA will find support at or above $70 for a rally towards $90.
EA Daily Chart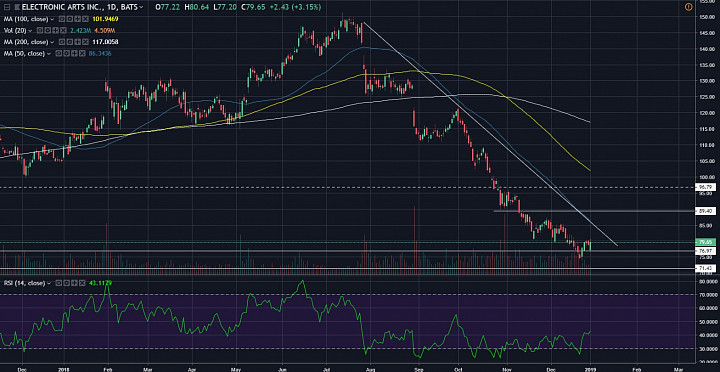 (click to enlarge)
Support:
- Looking at the weekly chart, we can see that price is right on top of a critical support/resistance pivot area between roughly $71 and $77.
- This is why I believe if the general equities market is not as bearish, EA will have a chance to find support at or above $70.
- It may already have found support for a bull run.
Upside:
- After price tagged $150 in July 2018 (all-time-high), EA fell sharply.
- I think this falling knife is NOT just going to turn into a bullish trend, although this scenario has a a non-zero probability.
- I think the more likely scenario is that the current rally is short-covering that could be coupled with some short-term swing trades.
- But I don't think this will drive EA back into a bullish trend, not until the overall market gets its risk appetite back.
- Because we are still in a risk averse environment I would limit the bullish outlook to $100, and start expecting resistance around $90.
EA Weekly Chart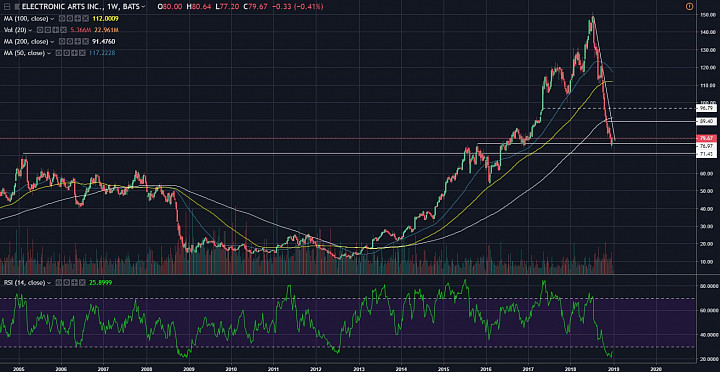 (click to enlarge)