USD/JPY Cracks Range Support: the Fed, Trump and the Non-Farm Payroll
The USD/JPY pair has been trading in a sideways market since mid-January following a month of bearish correction. 
USD/JPY Daily Chart 2/3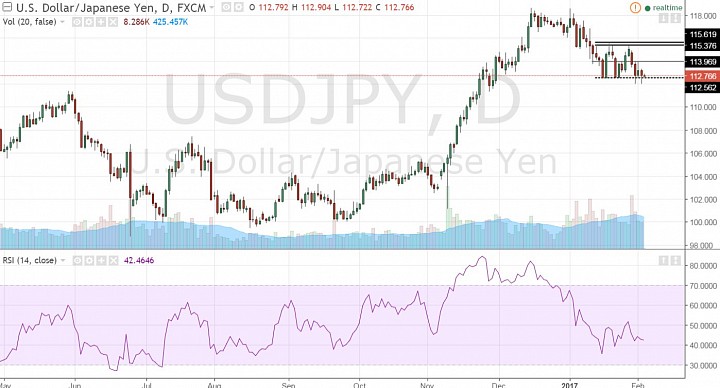 (click to enlarge)
Federal Reserve and Trump:
- This week, the Fed maintained its fed fund rate between 0.50% and 0.75%.
- It appears to be in no rush to raise rates despite acknowledging improving conditions. 
- The market's USD-bearish reaction following the statement suggests that it believes the Fed has halted its rate hike campaign. 
- Add the uncertainty arising from the new presidential administration and the market might have a good reason to fade the USD.
Consolidation Range, Federal Reserve:
- As we can see in the daily chart, price has been stomping on the recent range support all week.
- However, USD/JPY has been closing above the support every session this week.
- Indeed, it is likely focused on Friday's US Non-Farm Payroll (NFP).
USD/JPY 4H Chart 2/3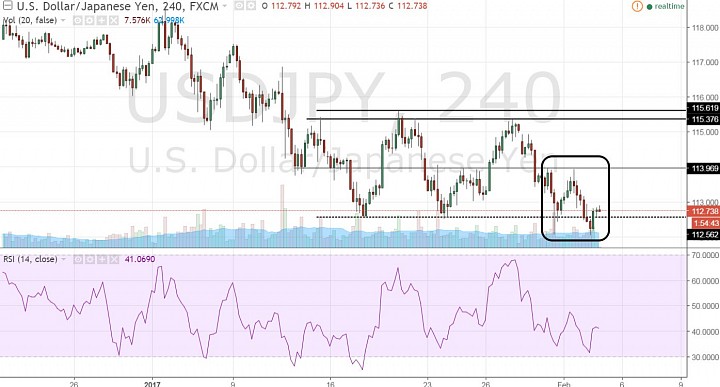 (click to enlarge)
Range Already Cracked; NFP:
- The 4H chart shows that USD/JPY has already cracked the consolidation range.
- Furthermore, an attempt to climb back above 114 failed. This is important because it kept USD/JPY in the lower half of the range, suggesting more bearish bias. 
- However, it looks like the market will need to be disappointed by the NFP to extend below 112.50.
- The average economic forecast is that 170K jobs were added in January, which would be up from the 156K reading from December.
- It should be noted that a number under 200K is considered weak right now. Even if the report meets estimates, I think the market will be disappointed, especially because Wednesday's ADP jobs report already hinted at a strong reading for January (246K actual vs. 165K forecast). 
- With the USD/JPY stepping on 112.50 under the current conditions, we would probably have to see at least 200K (even that might not be enough), to have USD/JPY close within the recent range. 
- A reading under 200K would likely allow the USD/JPY to continue this week's slide into the area under 112.50.