GBP/JPY Completing ABC Correction, or Simply in a Bearish Continuation
We called this recent dip in GBP/JPY back in the beginning of May when GBP/JPY looked like it was in the middle of a bearish breakout. At the start of this week, we followed up with the breakout and discussed the long-term bearish prospect of this breakout. Now, we are looking at a potentially completed ABC pattern, which means we should anticipate at least a brief rally.
GBP/JPY Daily Chart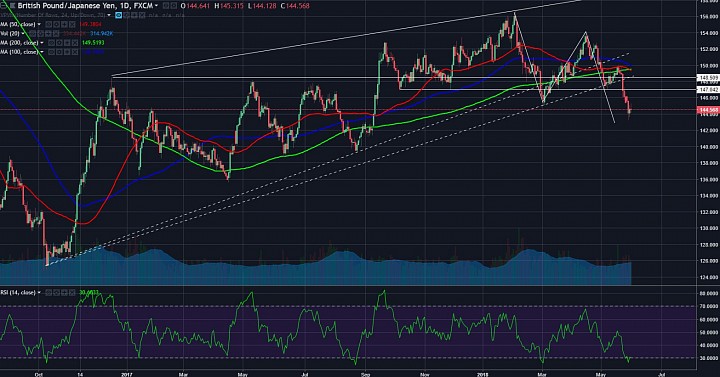 (click to enlarge)
ABC Correction:
- If we anticipate the ABC correction scenario, GBP/JPY has essentially completed it.
- After an ABC correction, we might return to the bullish mode.
- However, there will be a challenge at the 147-148.50 area. This wide area represents a support/resistance pivot area.
- A bullish market will break this, but a bearish market will likely be rejected. In fact, a rally to this area and a subsequent retreat would confirm that bears are in control of this market.
- In the bearish scenario, we have downside to 136 in the short to medium-term.
- In the long-term this could be a bearish trend that might have the multi-year low around 120 in sight.