JD.com (JD) Continues to Challenge Key Pivot at $26; Breakdown is Likely
JD.com $JD was in a bullish breakout in late February, early March. On the daily chart we can see that $26 was the neckline of a rounded bottom. The bullish breakout extended until price was around $31.60 after which it pulled back. We noted that a hold above $26 would be a good sign for the bullish breakout.
JD.com (JD) Testing Price Bottom After Pulling Back
However, that was before the escalation of the China-US trade-war. Now, with this risk averse environment especially for a Chinese e-commerce name like JD, the $26 is being tested again. This time, I think the market will cave and JD will slide back below $26.
JD Daily Chart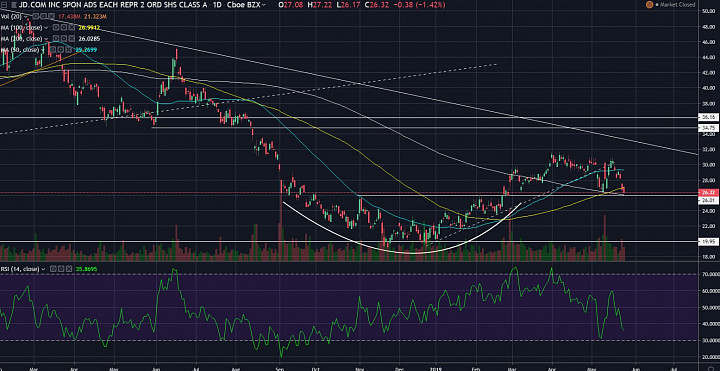 (click to enlarge)
Neckline Cracking:
- As we can see on the daily chart, price first rebounded off of the $26 pivot in early May, but the resulting rally failed to stay above $30.
- Instead price retreated sharply and is now testing the neckline again.
- Note that the RSI almost tagged 30 and then stayed under 60. This reflects a bearish shift in momentum since the first 4 months of the year.
- I think this time, bears are stronger and will break down the $26 support.
Downside, Next Key Support:
- The downside could be limited to the $20 area, which was a common support going back to 2014. (Refer to weekly chart).
- Note that on the weekly chart, the price structure is still bearish because price is trading under the 200-week simple moving average (SMA). The RSI also held mostly below 60 in 2019 after it was below 30 in 2018. This shows maintenance of the bearish momentum.
- Thus, I wouldn't rely on the $26 level for support and instead look for downside to the $20-$22 area before expecting strong support.
- I already have a half position opened around $24.
- If I can rotate out of some other positions and get more dry powder to allocate to JD, I would do so for the $20 level.
- I think after the market has priced in the trade-war, JD will have upside back towards the $34-$36 area. This could be a medium-term outlook - several months to almost a year going forward.
JD Weekly Chart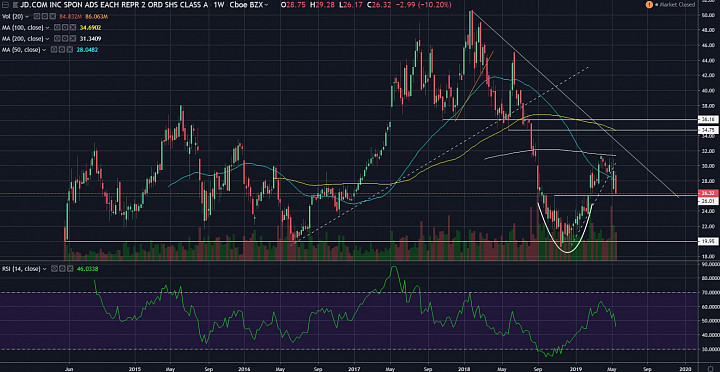 (click to enlarge)