GBP/JPY Threatens to Break Above Ascending Triangle
GBP/JPY has been consolidating since last week when it made a high on the year near 186.10. It has since been forming an ascending triangle as seen in the 1H chart.

GBP/JPY 1H Chart 11/26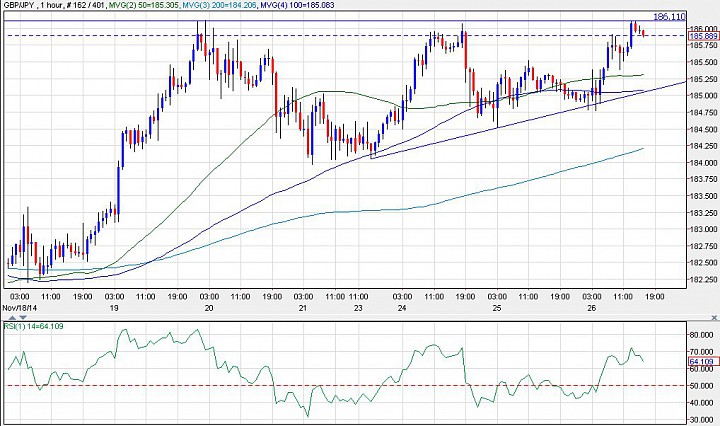 (click to enlarge)
There was support first at the 184.00 handle, then at the 184.60-80 area. As we close out the 11/26 session, the pair is rallying and making another attempt to break the triangle resistance. 

The prevailing trend is bullish, even in the 1H chart. So far there is some resistance at 186.10, but if price can hold above 185.40, the pressure remains to the upside.

A rally above 186.15 should be a clear breakout for GBP/JPY. The range of the triangle was a tad above 200 pips (184 to 186.10). 200 pips above the current high puts the 188-188.15 area in sight. 

If price fails to break above 186.15, and falls back below 185.40, GBP/JPY might still be in consolidation. A break below 184.00 will be needed to introduce any significant correction. Otherwise, GBP/JPY would still be neutral-bullish in the short-term, and very bullish in the medium-term.