Under Armour (UAA) Showing More Signs of Recovery
We might be seeing the market confirm a price bottom in Under Armour (UAA).

UAA 4H Chart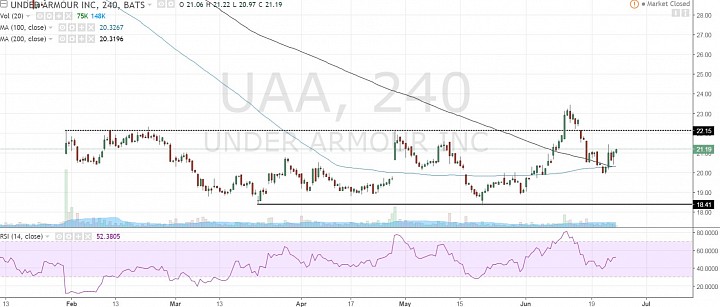 (click to enlarge)

Breakout:
- The 4H chart shows that price has was bearish heading into February, but then flattened into a consolidation range.
- In June, price broke above the range resistance, which was the first clue that UAA is on a recovery mode.
- After the breakout, price retreated, and we noted that if price can stay above the middle of the range, that means the market is respecting the price broken range as a price bottom.
- And that is the scenario we are seeing materialize.
- Another good sign for the upside is that after price broke above the 200- and 100-period simple moving averages (SMAs) in the 4H chart, UAA then bounced off these SMAs. This is call a "sling-shot" signal.
- Yes, there was a brief break below, but price came back above within the same trading session.
- Also, the RSI is holding above 40 after it pushed above 70, which is a sign that bullish momentum is developing.
- For now, we should limit our upside to 28.