Ameritrade (AMTD) Retreating Sharply from $50 in Bearish Continuation Mode
A couple of weeks ago, I noted that Ameritrade $AMTD was bullish in the short-term, but was likely going to find resistance in the $47-$48 area.
TD Ameritrade (AMTD) Pulls Up from $42.15 But Has Key Resistance in the $47-$48 Area
AMTD Daily Chart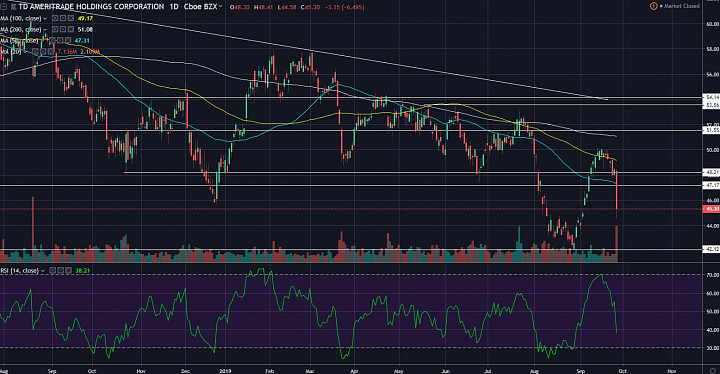 (click to enlarge)
Bears in Charge:
- As we can see on the daily chart, the prevailing trend is bearish.
- After consolidating for most of 2019, price broke down into new lows. When it rebounded from a support just above $42, it came back into the consolidation range.
- I suspected resistance at the previous support area, but price kept pushing to $50.
- Retreating from $50 still keeps AMTD in a bearish trend, especially with the downwards acceleration during the 9/26 session accompanied by strong volume.
- The strong retreat along with the headlines should be able to turn AMTD back into the bearish trend.
- If price indeed comes down to challenge the support around $42, I suspect a breakdown to $40 before support, with $36, 2017-low as the potential target.

Financial media is citing competitive pressure from Interactive Brokers as the catalyst:
TD Ameritrade and other brokerages' shares tank after Interactive Brokers unveils service offering commission-free stock trades
Interactive Brokers announced a new product that will provide commission-free stock trades.
The announcement pressured shares of rival retail brokerage firms TD Ameritrade, Charles Schwab and E-Trade Financial.
AMTD Weekly Chart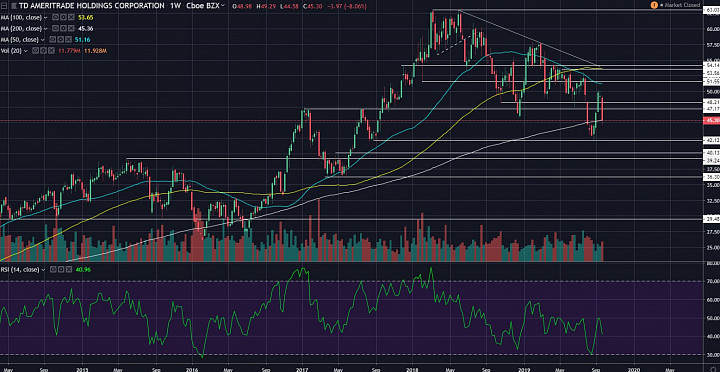 (click to enlarge)