Wendy's (WEN) Could be Topping
Shares of Wendy's (WEN) had a good run since summer of 2016. Price has rallied from around 9 to about 14.50 before stalling. 

Wendy's (WEN) Daily Chart 3/5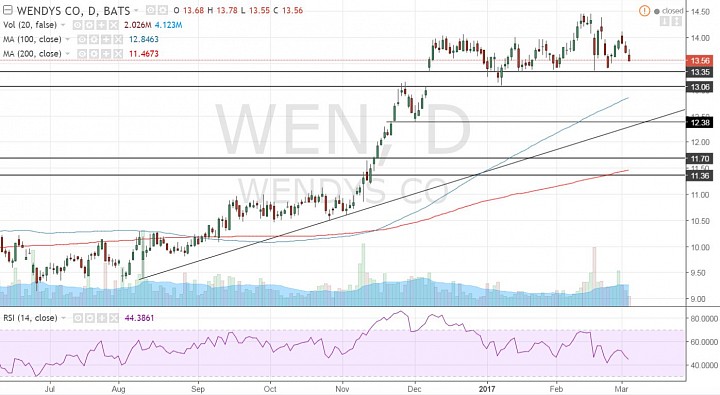 (click to enlarge)

Flattened:
- The daily chart shows the bullish trend that began in August, accelerated in November, and stalled since December.
- We did see price push above 14.00 to make a new high on the year, but we it quickly retreated. 
- After pulling back to 13.35 area, a common support so far this year, price did rebound. 
- However, the rebound revealed that bulls were no longer in charge as price failed to reach the 14.50 area.

Still Supported:
- Price is now at the crossroad. We know bulls are weak, but they are defending the 13.35 area. 
- This means, even though the 13-13.05 area is also support, a break below 13.30 should clear some of the bulls from the market already, making the 13.00 area less reliable as support.
- Further show of resistance around 14.00 should strengthen the price top/bearish correction scenario.

Bearish Targets:
- In this scenario, we first note support around 12.40, which is a previous support pivot and likely to be challenged by a rising trendline.
- The bearish outlook should be limited to the 11.35-11.70 area, which was the resistance area of the 2016 consolidation before August. This area could turn into support if WEN has become bullish. Therefore, the outlook for a bearish correction should be limited to this area.