US Manufacturing is Still on the Rise
(Tradingeconomics.com) The ISM Manufacturing PMI fell to 57.2 in March from a 2-1/2-year high of 57.7 reported in February. New orders and production grew less while employment and export orders indexes jumped.
The growth slowed for new orders (-0.6 to 64.5), production (-5.3 to 57.6), inventories (-2.5 to 49) and imports (-0.5 to 53.5). In contrast, faster expanison was seen in employment (4.7 to 58.9), supplier deliveries (1.1 to 55.9), prices (2.5 to 70.5), backlogs of orders (0.5 to 57.5) and new export orders (4 to 59).
More on Tradingeconomics.com
While the growth slowed in March compared to February, the trend is still expansion in manufacturing.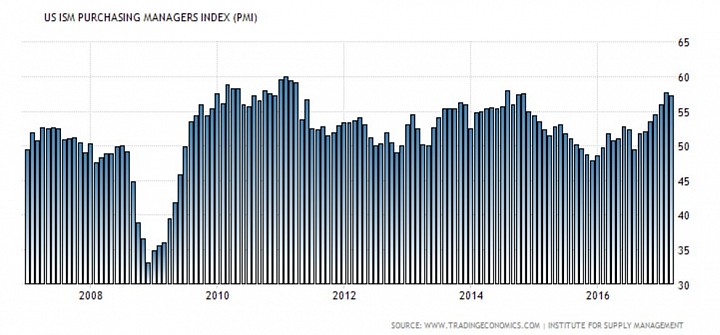 (courtesy of: tradingeconomics.com)
Also, take a look at the breakdown of the components of this survey: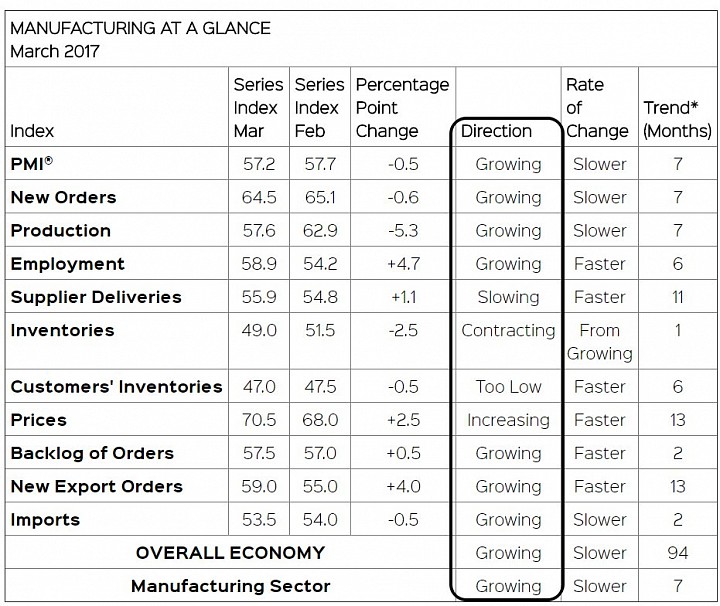 (courtesy of ISM Manufacturing Survey)

Finally, respondents in the ISM survey seemed mostly optimistic and positive:
"Business conditions continue to improve." (Chemical Products)
"Business outlook is positive." (Computer & Electronic Products)
"Regional business is strong. Hiring qualified team members has improved." (Fabricated Metal Products)
"We had a lot of storm orders, so it really pushed our sales up this month." (Miscellaneous Manufacturing)
"Starting to see some prices creeping up. We are raising our sales prices as well." (Food, Beverage & Tobacco Products)
"Business up 10-15 percent." (Machinery)
"Industry outlook is looking relatively flat currently, and the view for calendar year 2017 looks to be flat as well. Job market has been very good in the region, and finding talent has been challenging." (Transportation Equipment)
"Overall, material inflation is now clearly upon us." (Paper Products)
"Business is strong and looking up." (Furniture & Related Products)
"Opportunities for new business seem more abundant now. Orders and RFQs increasing." (Nonmetallic Mineral Products)
I highlighted the material inflation part because I think this report supports the Fed's plan to raise rates at least 2 more times this year.