GBP/JPY looks to breakout especially if equity markets continue surge
Japanese Yen sliding: The Japanese Yen has been sliding across the board this week. As a safe-haven currency, it is pressured because global market appetite was strong this week. The GBP/JPY for example rallied from a low around 129 last Wednesday (7/6) to 139.45 this Wednesday (7/13). 

GBP/JPY 1H Chart 7/13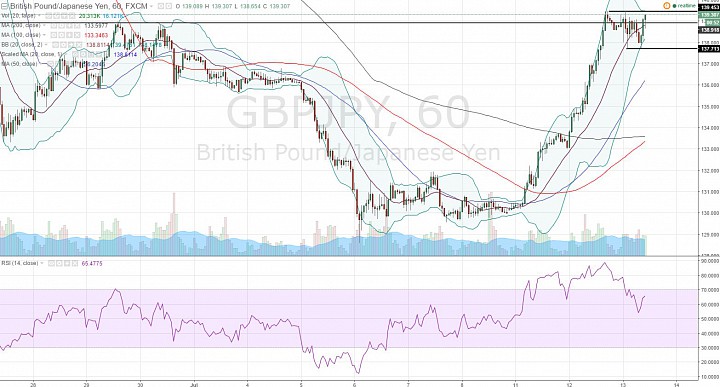 (click to enlarge)

Consolidation holding above 137.70: 
The 1H chart shows that price stalled at 139.45 and started to consolidate
The consolidation during the 7/13 Asian-European session has so far held GBP/JPY above 137.70 and mostly above 138. 
The strong price action during the European session suggests that GBP/JPY is ready to break above the consolidation resistance.

Breakout scenario:
Let's see if the market does indeed push GBP/JYP above 139.45 during the 7/13 US session.
In this scenario, GBP/JPY opens up the 144.00 handle. 
Because GBP/JPY is correlated to general risk, the bullish scenario would be supported by a strong rally in US equities markets. 

GBP/JPY 4H Chart 7/13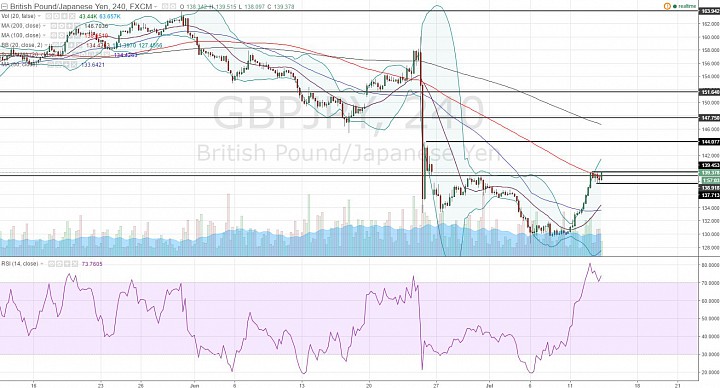 (click to enlarge)

Buying on a dip strategy:
If price pushes above 139.45 and dips back into the 7/13 consolidation range, consider buying around 138.70-139.
The stop will have to be below 137.70, so there could be up to a 150-pip risk.  
With the target being 144, the potential upside is about 500 pips. 
Even with a less aggressive target at 141.75 (a minor resistance pivot), the upside is 275 pips, almost a 2:1 reward to risk.