Snapchat (SNAP) in a Bearish Continuation Breakout after Earnings, Tencent (TCEHY) Takes 12% Stake
Tencent $TCEHY has taken a 12% stake in Snapchat $SNAP. Meanwhile, the slowing user growth continues to align Snap's valuation.
"Snap reported a net loss of $443.2 million or 14 cents per share and $207.9 million in revenue. Analysts were looking for a loss of $393.8 million or 15 cents per share on revenue of $235.5 million." (TheStreet.com)

It's definitely not so much about the specific earnings data, but the fact that Snapchat's business model does not seem sustainable at this point, especially with Facebook $FB as its main competitor.
SNAP 4H Chart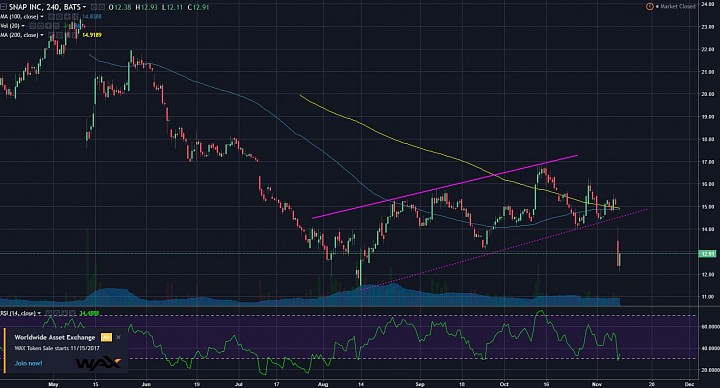 (click to enlarge)
Bearish Continuation:
- The 4H Chart shows SNAP consolidating since making a low around 11.25 in August.
- It will most likely see that again, and will potentially drive down to 10 before finding support.
- 14.00 is now a key resistance, meaning a break above 14 makes the outlook to 10 less likely.
- A break above 15 will introduce a bullish outlook because it would mean the market is done pricing in all the negative expectations and has belief that SNAP can change its business model.
- Most likely however, SNAP has more downside in the short to medium-term before the prospect of recovery.