AT&T (T) Likely to Extend Bearish Correction
Early last week, we took a look at the price action of AT&T (T) stocks. We noted that price action was likely to break a range support and head to the next pivot around 39.60. In fact, price did reach down to this key area this week.

AT&T (T) Daily Chart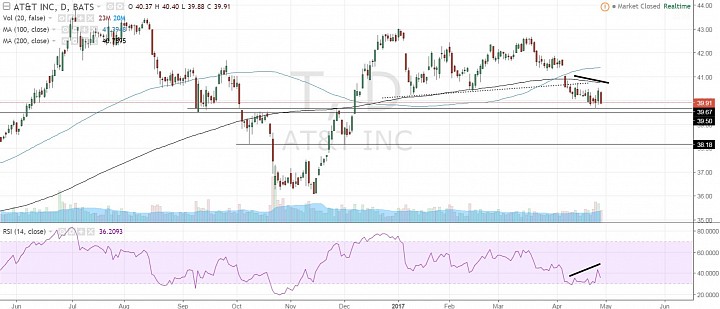 (click to enlarge)

At Key Pivot:
- Price is basically testing the support/resistance pivot area around 39.60. 
- Something about price action and the RSI tells me we should expect another low as price digs lower into this support area.
- The negative reversal is the clue. It is when price highs continue declining, but the RSI high is higher after it dipped below 30. This suggests another bearish swing, or that there is still bearish momentum left over. 
- We might even see price slide to the next support area around 38.20. 
- Whatever the eventual case, the technical clues at the moment cautions against buying at the current support.