Silver (XAG/USD) - Failed Bullish Breakout Leading to a Bearish Breakout
Recently, I noted that silver (XAG/USD) was in a bullish breakout attempt from its triangle consolidation that has been developing since April 2017. There were some bullish signs, but ultimately price failed to break the triangle resistance. What followed was an engulfing bearish candle that eventually extended into a bearish breakout.

Silver (XAG/USD) Daily Chart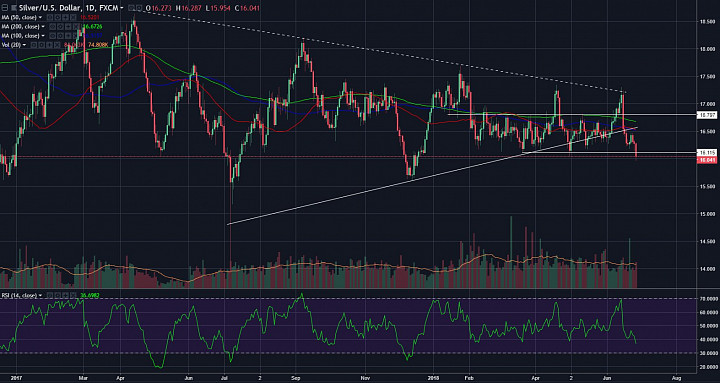 (click to enlarge)
Bearish Breakout:
- Looking at the daily chart, we can see that the failed bullish attempt gave way to a strong bearish one that broke the triangle support.
- After a brief bounce off of the common support area, the market confirmed the bearish outlook when it rejected XAG/USD from going above $16.50.
- It is now breaking that common support and cracking the $16.00 handle.
- There is at least downside to the $15.60 area, which is a common support area.
- A more aggressive bearish outlook would be the $14.00 handle, just above the 2016 low.
Alternative Scenario:
- This bearish outlook should be reconsidered if price can hold above $16 and rebound back above $16.50. In this case, we are back to assessing XAG/USD as we have for more than a year now - consolidation mode. In that case, we will have to mark $16 and $17.35 as key support and resistance for the range.