Johnson & Johnson (JNJ) to Advance It's Robotics Unit with Acquisition of Auris for $3.4B
You may think of Johnson & Johnson $JNJ as the maker of consumer medicals like baby products, face care products, and bandages etc. But it has been moving into medtech and specifically the robotics industry.
Since 2015, J&J's Ethicon unit has partnered with Alphabet Inc.'s Verily Life Sciences to form a robotics-focused company called Very Surgical Inc. This unit will now look to absorb Auris Health Inc., maker of "robotic scope used in respiratory and lung cancer procedures" for a price tag of $3.4B. (Reuters) In 2018,
J&J said the acquisition would complement its purchase last year of Orthotaxy, a privately held developer of software-enabled robotic technology for surgery.
J&J's Ethicon unit, which will absorb Auris, has a partnership with Alphabet Inc's Verily Life Sciences, under which the companies formed a robotics-focused company called Verb Surgical Inc in 2015.
"Investors have been yearning for an acquisition for JNJ's MedTech and while this entity may not have been top of mind, it complements JNJ's Ethicon franchise and its respiratory health focus," BMO Capital Markets analyst Joanne Wuensch said.
J&J's agreement also includes additional payments to Auris of $2.35 billion, contingent upon Auris reaching certain milestones, which J&J did not specify.
from Reuters
Johnson and Johnson has been bullish, but a reminder of its baby powder - asbestos scandal caused one of the sharpest contractions in its stock price history last December (2018).
Johnson & Johnson shares plunge after report that says it knew about asbestos in its baby powder (CNN)
But it appears like the market is moving on from that. From the daily chart, we can see that price was able to hold above its 2018 low around $120.
I think JNJ is positioned well for the continuing foray into medtech, which will help it diversify from its traditional "hard" products mix, which will likely see declining margins anyway.
JNJ Daily Chart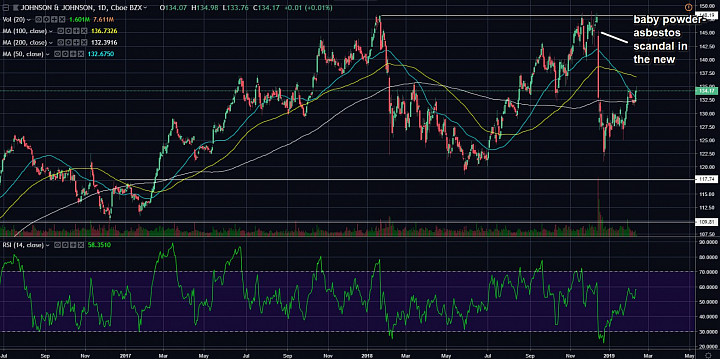 (click to enlarge)
Price in the middle of a range:
- In terms of price action, we can only say that JNJ is neutral-bullish.
- It is neutral because it is in the middle of a sideways range that started in 2018.
- However, we can see that it was bullish heading into 2018. Thus, the fact that the December 2018 price dip held above the 2018 low, was a good sign that JNJ is still bullish, or at least not bearish.
- At this point, a break below $117 would be a game-changer and signal a major bearish correction. But for now, I think there is a good chance price will hang around $135 for a while, but has upside back towards $148-$150 area.
- Then, once the overall market is done with its consolidation cycle, which I think will extend through 2019, JNJ should have upside above the $50 mark.
- I got into JNJ in 2018 around $134, before the December dip. I probably should have picked up more during that drop, but I was waiting for further downside to buy around $120. This did not happen of course.
- Now, I am tempted to move some buy orders to $130 area, but I am keeping them at $120 in case we see a similar pattern as we did in the beginning of 2018, when price did eventually slide down to $120.