EUR/CHF Confirming a Bearish Break With Downside to 1.08
The $EURCHF pair broke below a 10-month range consolidation pattern in June. It is now confirming that breakout and signaling further downside.
EUR/CHF Daily Chart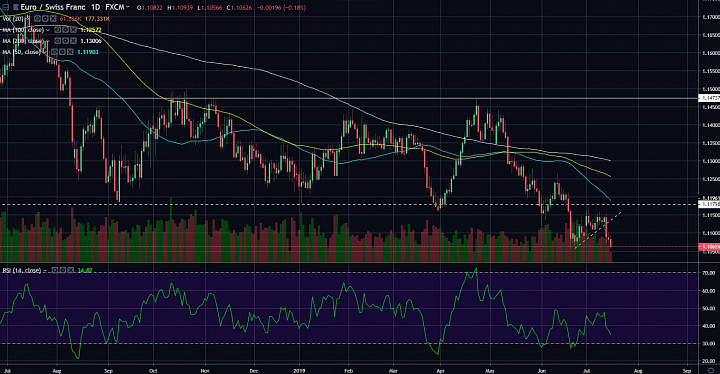 (click to enlarge)
Bearish Continuation Breakout:
- First note that the overall trend has been bearish, heading into the consolidation that started in August 2018.
- Price for the most part remained under the 200-day simple moving average (SMA) outside of a month between April and May.
- After price broke below the range support, price stalled a bit around the 1.10 mark.
- But during this brief consolidation so far, price has held under the previous range support. This is a bearish sign.
- We are seeing bearish price action this week, continuing the downtrend.
EUR/CHF Weekly Chart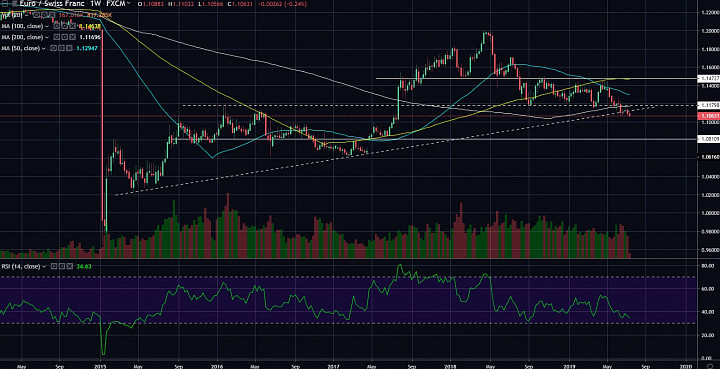 (click to enlarge)
Long-term Bearish Breakdown:
- As we can see on the weekly chart, EUR/CHF has been climbing since the pair dipped briefly to around 0.98 in the beginning of 2015.
- The market eventually put in a price top (head & shoulder) around the start of 2018.
- The fact that price held under the neckline of that price top around 1.1470-1.15 was already a sign that bears took charge.
- We are now seeing another phase of this bearish market as price breaks down some key support factors.
- Price is also breaking down the 200-week SMA as well as a rising support coming up from the 2015 support pivots.
- I think price has at least downside to the 1.08-1.0810 area, which represents a support resistance pivot going back to 2015.

The Euro is under pressure after more dovish sentiment over upcoming ECB interest rates decisions. While it held interest rate in the June meeting, it did signal stimulus measures that could include rate cuts, or bond-buying, or maybe both.
ECB Follows Fed in Signaling Fresh Stimulus
However, as the Swiss Franc (CHF) strengthens, there is always the risk of Swiss National Bank (SNB) intervention, although it might not be a "floor" as it has previously done.
EUR/CHF: Closing in on levels where SNB might step in – Danske Bank

It is because of this risk, I would avoid the aggressive bearish outlook and stick to 1.08 as a key target for now. Perhaps, we will eventually see some consolidation between 1.08 and 1.12.