Dorman Products Inc. (DORM) - Maintaining Bullish Outlook.
Dorman Products $DORM was on our radar when it pulled back from a new historic high made in 2091. This names continues to look bullish after that pullback, and our buy-the-dip plan is working out. What levels should we pay attention to now?
Dorman Products Inc. (DORM) - Bulls Winning Fight at Key Pivot
DORM Daily Chart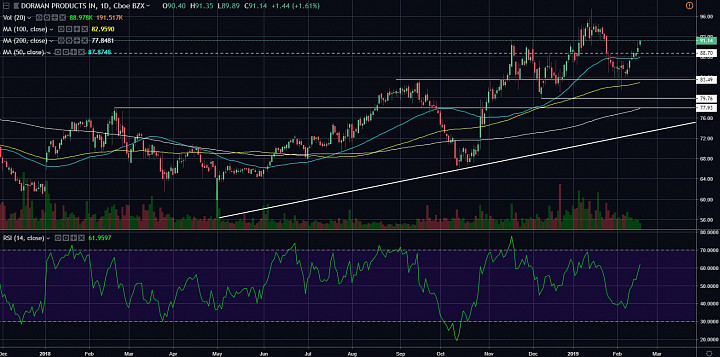 (click to enlarge)
Bulls in Charge, but Lacking Volume:
- The daily chart shows a market that has been making higher highs and higher lows.
- After a bit of consolidation in 2018, it began to make new all-time-highs.
- Note that price is above the 200-day simple moving average (SMA), as well as 100-day and 50-day SMAs. The RSI has held above 40, which reflects maintenance of the latest bullish momentum.
- Finally, we proposed anticipating 1st support around $83.50, and this has worked out.
- But we should note that the volume on this rally was not strong, so we should be careful about projecting upside.
- We might still see a new high above the $96 area, but this looks like a market that might have some resistance at $100.
- I am personally in a small position from $83.50, and will be looking to exit around $98. I am being conservative because I think there is another general market contraction soon that will drag DORM back down.
- Another strategy is to us a trailing stop to lock-in profit, but allow price a chance to run longer.
- At the moment $87 appears to be a critical pivot in the short-term. If the market is truly bullish it should hold above this level.
- With a trailing stop, I would be more confident in a more aggressive target like $105.
- This was never a long-term trade, and being able to exit at $105 would be around a 25% gain.