Stalking Toyota Motor's (TM) Free Fall; Also a Look at General Motors (GM) and Ford (F)
Traditional car manufacturers such as General Motors (GM) , Ford (F), and even Toyota Motors (TM) have been reeling while Tesla (TSLA) has been surging to new highs. In a previous look at Toyota Motors, we discussed a key break below 110, which opened up the 98-100 area. As we look at the price development a week later, we can observe a sharp downswing developing.

Toyota Motors (TM) Daily Chart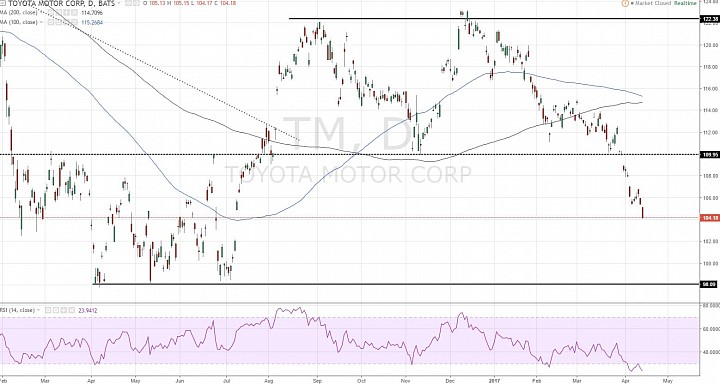 (click to enlarge)

Free Falling:
- The daily chart shows price action free falling, except for a few sessions of small gains.
- It is probably not prudent to try to catch this falling knife until it reaches the 98-100 area. 
- Even then, we should look for a bullish divergence between price action and the RSI. 
- Then, in terms of upside, we would have to limit any bullish outlook to 110, with the 105-106 area as a more conservative target.

GM and F:

General Motors (GM) Daily Chart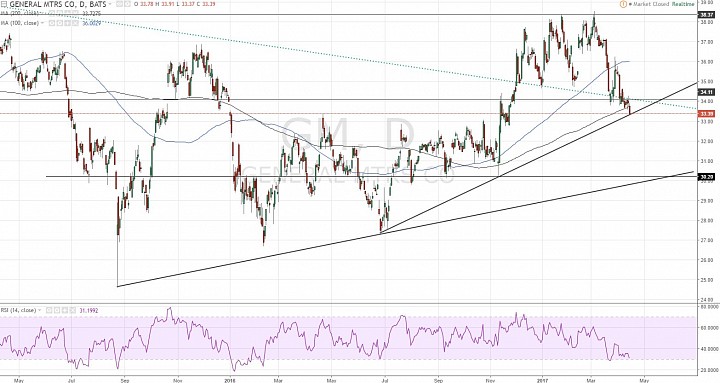 (click to enlarge)

Cracking Support:
- In a previous update on GM, we noted a support area between 33 and 34.
- Well, price is digging at this support area, and I would not be surprised by a break and bearish continuation, especially with Toyota and F also reeling.
Next Support:
- If price does not bounce off this 33.00 area next week, or does but is immediately faded, we might see the downswing continue towards the 30.00 handle.
- The 30.00 area is probably a better look for support. It is a psychological level, and a previous support area. Price will also likely be supported by a rising trendline if it falls to 30.00.
- From 30.00, the most aggressive bullish outlook should be limited to 35, while a more conservative target would be the 33 area. 
(click to enlarge)

Already Bearish:
- You will notice that price action in the charts of TM and GM had a slight bullish bias, or at least a sideways market since 2015. 
- Ford (F) however, has been bearish since late 2014 as we can see on the weekly chart.
- This bearish trend has been continuing in a hurry so far in April.
- The current support area between 10.50 and 11 is being tested. 
- A break below that would not be surprising, and would open up the 8.75-9.00 area. 

As all these traditional car manufacturers face competition and disruption from Tesla as well as the "new" sharing economy, investors will be on the sidelines for a while, making their money work in other industries. 

2017 is shaping up to be a tough year. But I think as noted in the above assessments, we can anticipate support eventually and we might want to scoop up some shares after a prolonged sell of. Of course, there would need to be some new developments/innovations that can fuel a recovery from the support levels on the charts. Otherwise, best we can hope for is price to stall around these technical support levels, without any significant rebound.