Baidu (BIDU) Pushing Sharply Against Technical Resistance
We have seen the Chinese search engine Baidu trade from heights of 252 in late 2014 to a low of 100 in August 2015. However, as we can see in the daily chart, BIDU has since formed a price bottom, and shot up. It accelerated further after the company reported earnings of $1.25, beating estimates of around $1.20. 

BAIDU (BIDU) Daily Chart 11/2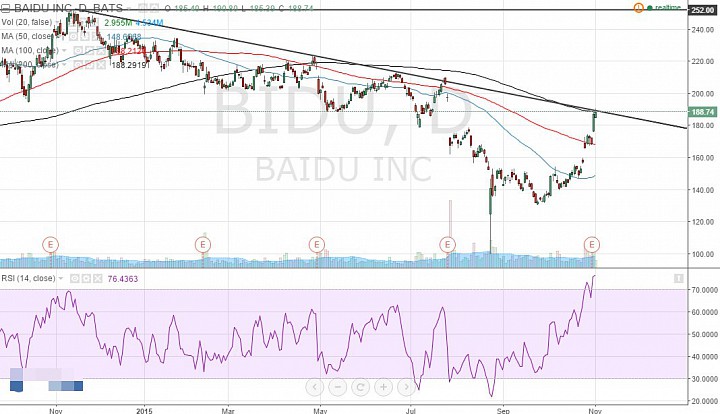 (click to enlarge)

This latest surge puts BIDU against a couple of resistance factors around 188, a falling resistance line, and the 200-day simple moving average (SMA). In the short-term, we could possibly expect some resistance here. Let's first see if price will stall here under 200. If price pushes above 200, we have a strong confirmation of a bullish reversal. 

Whether price breaks above 200 or not, we should anticipate a possible pullback towards 160. If BIDU has turned bullish, we can expect the market to respect the price bottom formed in August through part of October. 

However, if price fails to break 200 and falls below 150, there should be risk towards the 100 handle again.