SunPower (SPWR) - Waiting for Another Dip Within a Falling Wedge
Since its IPO at the end of 2005, the market has seen SunPower's (SPWR) euphoric rise and subsequent capitulation during the global financial crisis. This type of price action is not uncommon for IPOs especially when it involves a new technology. In this case, while the technology of converting solar power to electrical, mechanical power etc. is not new, its application in the US is still young and has not gained critical mass.

Perhaps, the financial crisis took SPWR down with it further than it would have if economic and financial conditions were "normal". Now that it has gone through some growing pains, SPWR stocks could shift from a bearish to a bullish mode, or at least a neutral one. 

SPWR Monthly Chart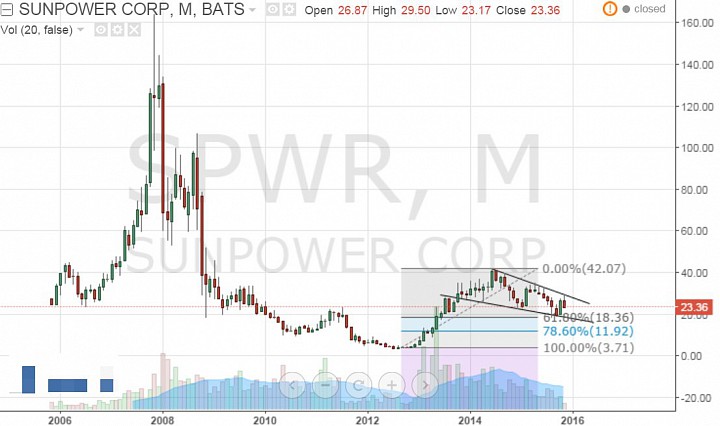 (click to enlarge)
In any case, we have seen price fall from heights above 160 down to 3.71 after which we saw a promising rally to about 42. However, since mid-2014, SPWR has been retreating again. When I look at the volume associated with the rally and retreat since 2012, I would say that strong volume has accompanied the rally, but weakening volume has accompanied the decline since 2014. This suggests that the long-term outlook can still be bullish, although the medium-term one appears to remain bearish. 

SPWR Weekly Chart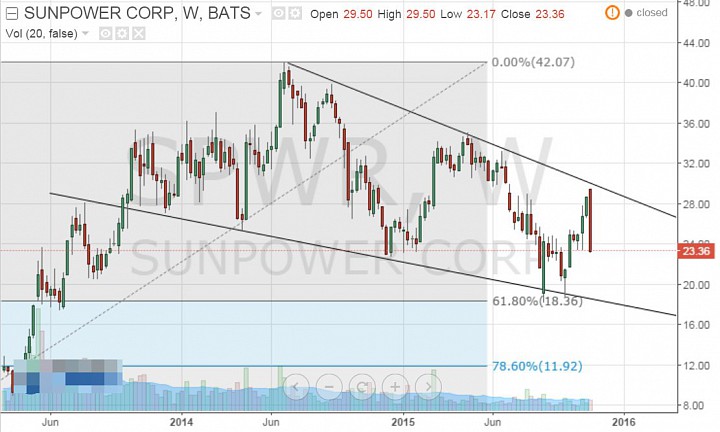 (click to enlarge)
This bearish outlook since 2014 could represent a multi-year correction against the 2013-2014 rally, which initiated a bullish outlook that is still valid despite the current decline. Still, we have to give some more room for price to fall before expecting another rally. 

I am anticipating a dip towards the 78.6% retracement level around 12, but really, I am interested to see if price can form a bottom between this 78.6% and 61.8% retracement level. If so, price action would have completed an ABCDE correction, either in the form of a falling wedge, or a falling channel. 

For now, last week's bearish engulfing candle should carry some short to medium-term momentum. Therefore, even though I am bullish on SPWR in the long-term, I want to wait for a medium-term (at least several weeks to a few months) of bearish action. If there is a bullish play here from the 12-18 area, the bullish outlook would first be limited to the 25-30 area, where the IPO started at.