Activision Blizzard (ATVI) - Plunges from Support to Lower Support After Earnings
Activision Blizzard $ATVI saw its share price fall from $84 to about $62 in October to 11/8. Then its Q3 earnings report spooked investors further and price will likely open during the 11/9 session around $56.
A Diablo (game) release backlash, disappointing Blizzcon, and now a disappointing Q3 earnings especially on guidance, are just too much for investors to handle at a risk-averse environment.
ATVI Daily Chart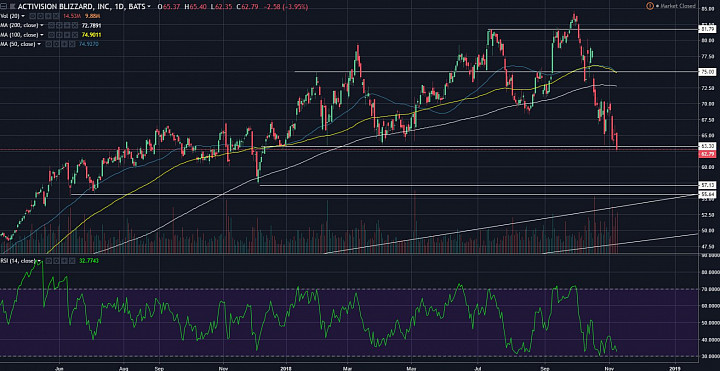 (click to enlarge)
Support to Support:
- Note that price action failed to clear back above $70 at the end of October.
- It remained bearish ahead of earnings and was testing/cracking the $63.30 support pivot.
- After-hour trading has brought price down to around $56 by 8:00PM ET,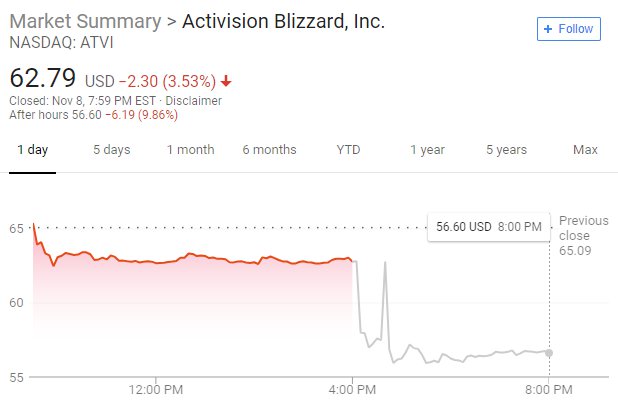 (click to enlarge)
Stalking the Falling Knife:
- I personally think this triple whammy has given us an overreaction.
- In the short-term, we might NOT want to buy on the dip yet. As they say, don't catch a falling knife.
- However, I think ATVI is still a strong company.
- I can see it no longer bullish and needing to consolidate for a while (could be a couple of years).
- However, I don't think it will turn bearish outside of the short-to-medium-term (up to few months).
- In terms of price, I will be looking for support around the $50 mark.
- On the weekly chart, we can see that there is a rising trendline and the 200-week SMA that are support factors for ATVI if it falls to $50.
- Below $50, $45 is a support/resistance pivot.
- While upside is limited in the medium-term, I think falling $45 to $50 range would represent an overreaction of the recent negativity.
- Even at $55-$56 we might see some short-term bounce to test $60 as resistance. If $60 does act as resistance, we can be more confident of the downside towards $50.
ATVI Weekly Chart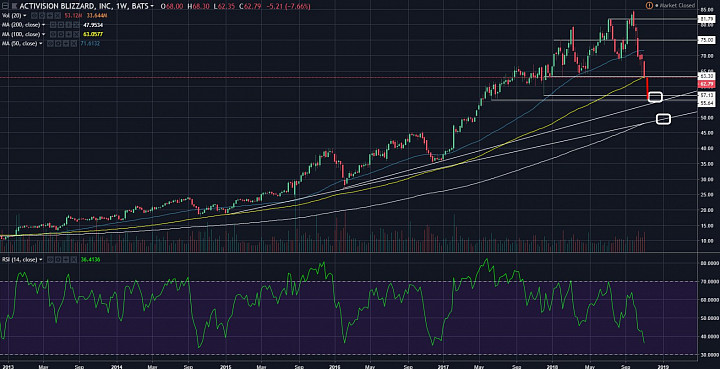 (click to enlarge)