Intel (INTC) - breakout and a bullish engulfing candle
Intel seems like a good candidate for a buy on the dip strategy especially after last week's price action.

INTC Weekly Chart  9/19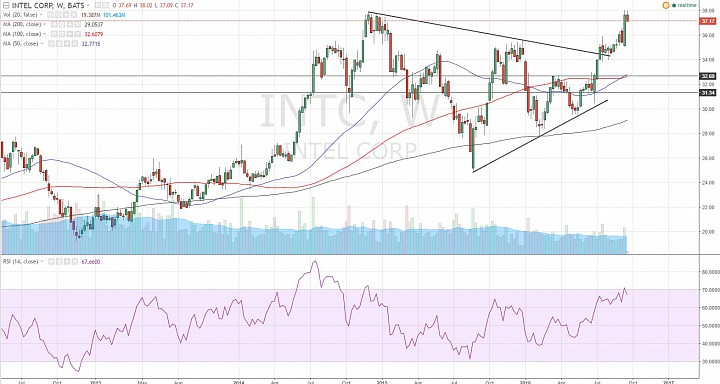 (click to enlarge)
Breakout and bullish engulfing candle:
- An examination of the weekly chart reveals that INTC could be done with triangle consolidation that started at the start of 2015 and ended this summer. 
- After the breakou we saw price anchor above 34.00. 
- Price edged higher and really took off last week. 
- We can see that last week's candlestick is a bullish engulfing candle. This suggests continuation and is threatening to break the key resistance around 38.00, which was the high in 2014. 

Buy on a dip:
- Last week's candle made 35.00 a key support pivot. 
- If we price retreat from 38.00 this week, we can consider buying with a stop under 35.00. 
- The initial target can be the 40.00 handle.
- For now, we should limit the bullish outlook to the 44-45 area, which represent some common highs in 1999 and 2000. 
- if price dips below 35.00 on the other hand, we should anticipate more bearish correction perhaps towards the middle of the triangle around 32.