Enterprise Products Partners (EPD) Approaching Range Resistance Again
Enterprise Products Partners $EPD has been bullish since late 2018, The rally has been sharp, and price is almost back to the 2018-high. In fact, this 2018-high was also a range resistance.
EPD Weekly Chart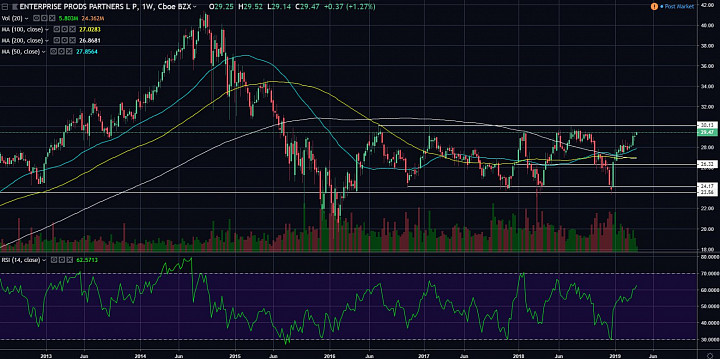 (click to enlarge)
Consolidation Range:
- On the weekly chart, we can see that EPD has been in a multi-year consolidation range between roughly $24 and $30.
- The length of this consolidation suggests that if price breaks out, there will likely be a sharp move.
- So, in the coming weeks, we should monitor the $30-$31 area.
- I think if price can close above $31 at the end of a week, or even just at the close of a session, subsequent price action will also be bullish.
- While the upside is ultimately back to the 2014 highs just above $41, I think we should be mindful of a resistance just under $35, and another one around $36.
- But if price does make it up there, the consolidation range around $30 will likely become a key support in the bullish scenario.