GBP/CAD has the low on the year in sight
Earlier this week, we looked at the GBP/CAD as it signaled a bearish outlook: GBP/CAD still looks bearish
GBP/CAD 4H Chart 8/11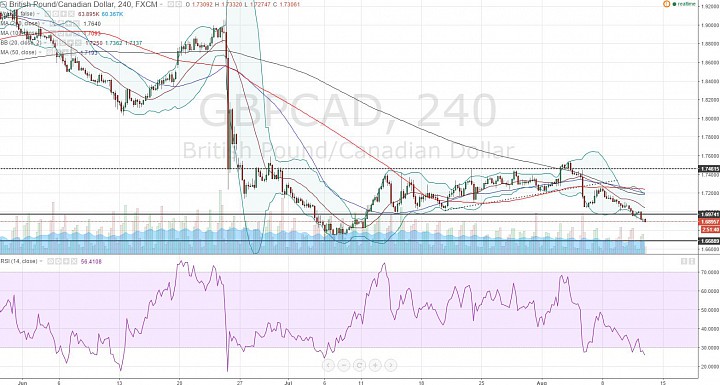 (click to enlarge)
Slingshot:
- In that previous update, we looked at a developing slingshot.
- Basically price came back below the cluster of 200-, 100-, and 50-period simple moving averages (SMAs). Then it came back to test the cluster as resistance.
- The fact that the cluster of SMAs acted as resistance suggests that bears have taken over. Along with the subsequent downswing, this price action is call a slingshot.

Low on the year:
- As noted in the previous update, a slingshot that can break below 1.70 should open up the 1.6690-1.67 low on the year. 
- With the prevailing bearish trend and momentum, it would not surprise me if GBP/CAD falls below that low on the year.

Scenarios:
- The "ideal" scenario for GBP/CAD to break that low on the year is if UK slips into a recession AND oil climbs back up.
- I think for the low on the year to hold, WTI crude oil price needs to fall back below 40, and the UK economy to be basically Brexit-proof. 
- I personally see more chance of the former scenario materializing, so I think GBP/CAD will continue lower in the medium-term (within a month or 2).