USD/JPY Has Upside to 114; Monitor 110 for Support
The $USDJPY continues to rally and has now opened upside towards the next key resistance around 114. Ability to hold above 109.80-110 area can confirm this bullish outlook.
USD/JPY Daily Chart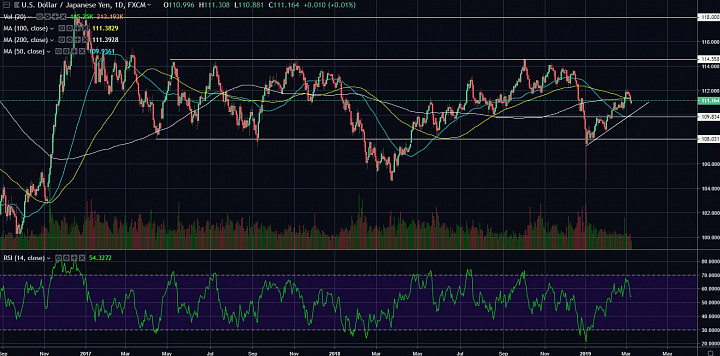 (click to enlarge)
Subtle Bullish Clue:
- On the daily chart we can see that price has been essentially trading sideways.
- But in 2018, price dipped below 105 briefly before coming back up. Then USD/JPY continued to respect the 107.50-108 area as support.
- The dip below 105 in 2018 was therefore a failed bearish attempt towards the 2016 lows around 100. This suggests a lack of bearish conviction, and thus suggests some bullish bias.
- The recent support around 107.50 confirms this bullish bias and thus opens up the 104 resistance.
Key Levels:
- The 112 level is a key support/resistance pivot that is acting as resistance at the moment.
- But if price holds above 110, and comes back up to 112, I think USD/JPY will break higher and eventually push to 114. I looks like price is starting to find support around 111 already. A rally from here to 112 should also threaten a break higher.
- If price then pushes above 114.60, we might be looking at an extension towards the next key resistance around 118.
- A break below 109.80 on the other hand puts pressure back towards the 108 support. In this scenario, I would lose the bullish bias and simply step aside and wait for more clues to assess.