VMWare Inc. (VMW) in a Pullback After Breaking Into All-Time-Highs
VMWare Inc. $VMW has been resilient, as has many cybersecurity names. Since start the year at $130 a share, VMW has pushed into fresh all-time-highs around $183 last Friday. But Monday's price action suggests we should anticipate a pullback after this recent breakout.
VMW Daily Chart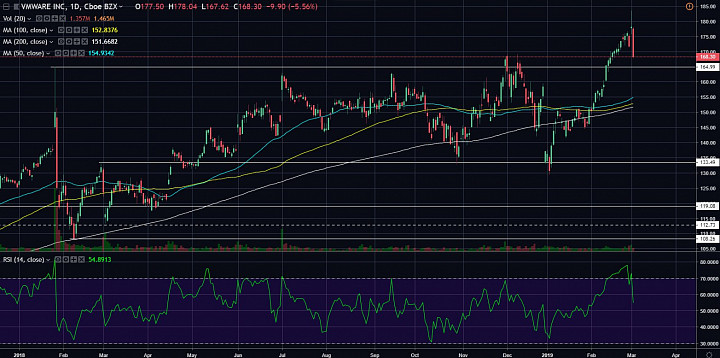 (click to enlarge)
Buy-the-Dip?
- As we can see on the daily chart, VMW has been bullish, though it was choppy fro the second half of 2018.
- Then, in 2019, price broke above the 2018 resistance around $165.
- This breakout simply confirms the strength of the prevailing bullish trend.
- If this is still the case, I would consider buying on this pullback.
- In general, I like to wait for the pullback to come back to the middle of the broken range, which is around $150.
My Tentative Trade Plan:
- The cluster of moving averages (200-, 100-, and 50-day) are between $150-$155 and also serves as a guide for support.
- I would also say that even if the pull back gets extended due to market risk (if the overall market has a significant contraction), VMW should still find support above $130, a range support.
- Therefore, I would average in $155 and $135, with a stop below $130 i.e. $125.
- The target would be $175-$180 area, although if price gets there, I would consider switching to a trailing stop and moving the target to $200 (especially if the overall market shows risk appetite).