US GDP Data Was a Mixed Bag
The US Bureau of Economic Analysis (BEA) releases 3 GDP reports for each quarter starting with the advanced, followed by preliminary and then final. Last Friday (1/27), The BEA released advanced GDP estimates for Q4 2016.

Official GDP Report from the BEA

Growth came in at 1.9% (annualized), which missed the average forecast of 2.1%. The Q3 reading however was revised up to 3.5% from 2.9%. 

A chart of historical GDP should provide a better picture: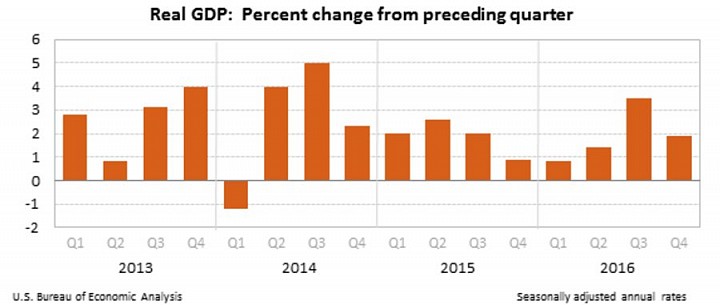 (Courtesy of the BEA)
The BEA also reported that the 2016 GDP growth rate was 1.6%, the lowest since 2011. The silver lining is that growth seemed to be stronger in the second half of the year especially Q3 of 2016.
Furthermore, AP News reported: "analysts believe there were signs in Friday's report of a rebound in business spending and housing activity, which could lead to stronger growth in 2017 of around 2.5%." (apnews.com)