CAD/JPY Awaiting Breakout from a Consolidation Range
CAD/JPY was bullish most of September, until it hit 99.81 and retreated. 99.81 remains the current 2014-high. After a dip, CAD/JPY found support at 97.67, which was a previous resistance pivot on 9/9. This shows that bulls are still in charge. Furthermore, the moving averages are still in bullish alignment, although price has gotten under the 50-period, and flirting with the 100-period SMA. The 4H RSI has held above 40 for the most part, so we can say that the bullish momentum is maintained.

Even after the soft Canadian GDP data, when CAD/JPY fell, the pair remains in the consolidation range between 97.67 and 98.73.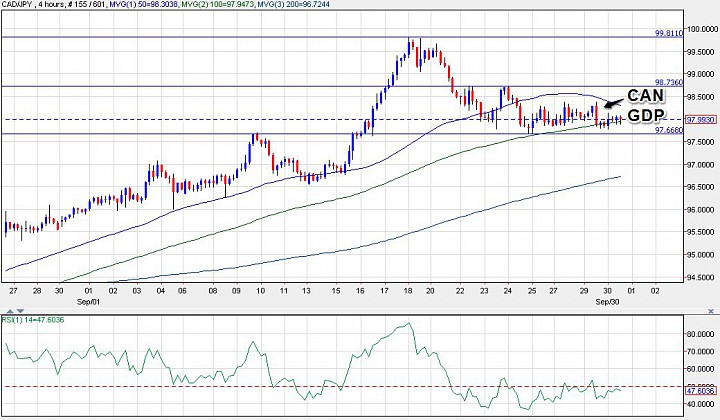 (CAD/JPY 4H Chart 10/1)
If CAD/JPY breaks below 97.65, it opens up the low around 96.50. We also have the 200-period SMA around 96.75. Considering the prevailing uptrend, and a fresh high on the year made just recently, we should probably limit the bearish outlook to 96.75. 

If price breaks above 98.75, it opens up the 99.81 high on the year. This would be continuing a bullish trend, so there is potential for further upside risk ie. at least to 100.00. 
In the weekly chart, we can see that CAD/JPY has been essentially consolidating sideways since 2013 after a rally in 2012. 
We should therefore anticipate resistance, and some consolidation around or below the 2013 high at 101.04, especially if the weekly RSI pushes above 70, which would show overbought conditions.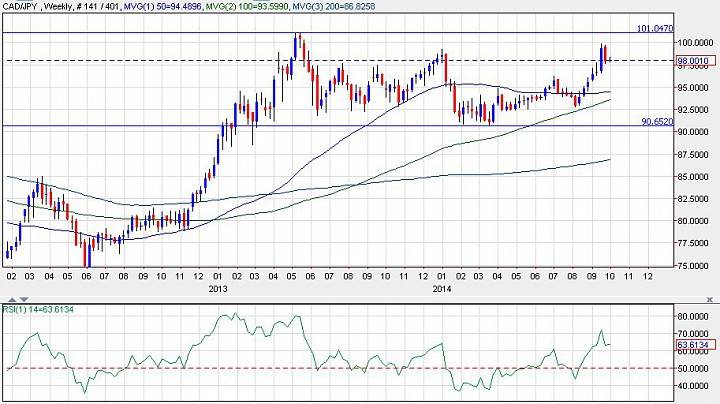 (CAD/JPY weekly Chart)