Abercrombie & Fitch (ANF) Pulling Back; I Like $22-$23 Area As Support
Abercrombie & Fitch is not a name that drives imagination of growth. But I think in the short-term to medium-term, there could be some recovery towards the $30-$33 area, which was the 2016-High.
ANF Weekly Chart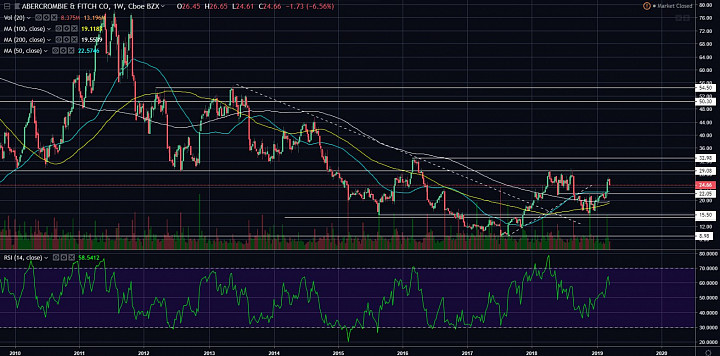 (click to enlarge)
Consolidation With Some Bullish Signs:
- After a long-term down-trend since 2011, price has started to shift side-ways.
- I don't think there is much prospect of a bullish reversal back to heights in 2013-2014, much less 2011.
- But a recovery to the $30-$33 support/resistance pivot area is viable within the consolidation context.
- On the weekly chart, we even see some evidence of a bullish trend as price is now trading above the cluster of 200-, 100-, and 50-week simple moving averages (SMAs).
- The RSI has also pushed above 70, and subsequently held above 40, forgiving a couple of brief violations. This suggests development of bullish momentum.
Breakout and Pullback:
- On the daily chart below, we can see that price has been choppy. We basically saw a period of consolidation in 2018, which broke down. Then we saw a consolidation of similar length in time between September and March.
- The recent bullish breakout in March opened up the $30-$33 area, although there could be resistance just under this area around $29 as well.
- The thing is, price is pulling back now.
- I don't have dry powder ready for ANF, but if I did, I would probably wait for price to pull back to the $22-$23 area.
- I believe a short-term bullish market should hold here if it is going to drive to the $30 area.
- I would also expect the daily RSI to hold above 40 in the bullish scenario.
- A break below $20 would likely signal downside and bearish pressure towards the $16-$17 lows.
- With a stop below $20 and a target at $30, getting in around $23 provides a roughly 2:1 reward to risk profile.
- If you think there is a 50% chance price will go to $30 before falling below $20, then this could be a decent trade to consider.


ANF Daily Chart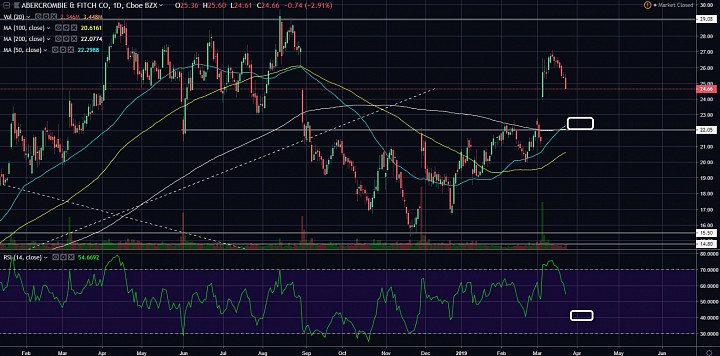 (click to enlarge)