Roku Inc. (ROKU) Continues Sharp Correction, Testing 2nd Key Pivot
Roku Inc. $ROKU has been having a tremendous yea, rallying from a low at the end of 2018 just under $30 to a high just above $170 by the start of September. It is now in a very sharp correction with relatively strong volume.
This recent decline is due to competitive risk:
Roku stock takes a tumble after Comcast plans free streaming boxes for internet customers
"Roku Inc.'s massive 2019 rally took a dent on Wednesday after a media giant, Comcast, made a move that undercuts the makers of streaming-media players.

...
The stock fell 10.5% last Tuesday after Apple Inc. AAPL, said that it would be giving away a free year of its new Apple TV+ service to those who purchase new iPhones, Macs, iPads, Apple TVs, or iPhone Touch devices. " (MarketWatch.com)
ROKU Daily Chart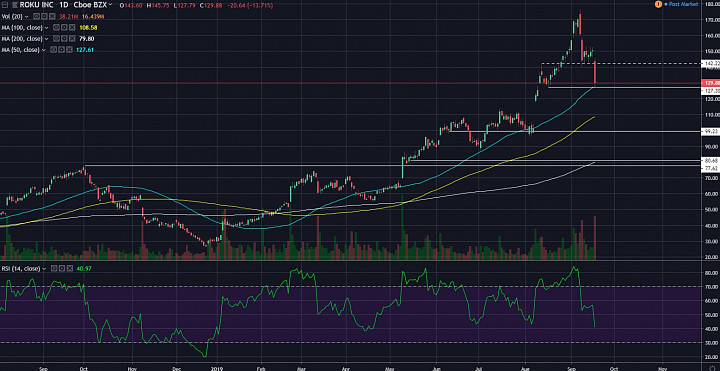 (click to enlarge)
Support Levels:
- The first key support was around $140, a previous resistance pivot. There was support here at first, but price failed to clear back above $150 before falling lower this week.
- As price fell below $140, price fell immediately towards the next support around $127.50. The RSI is back around 40, and if the market is still bullish, the RSI will hold above 40.
- However, I think we are now in a significant consolidation/correction period. I think this support will be brief and the RSI will fall below 40, reflecting a period of correction that might be similar in scale to the one in late 2018.
- I think there is more downside towards the $100 psychological area, and the mode would still be within a bullish context.
- In fact, even if price falls back to $80, I would add exposure to ROKU. But if the market is indeed going to remain bullish on ROKU, I think the $100 will be key.