General Motors (GM) Bulls Make a Stand
The share price of General Motors (GM) have been on the rise at least since mid-2016 as seen on the daily chart below.

GM Daily Chart 2/14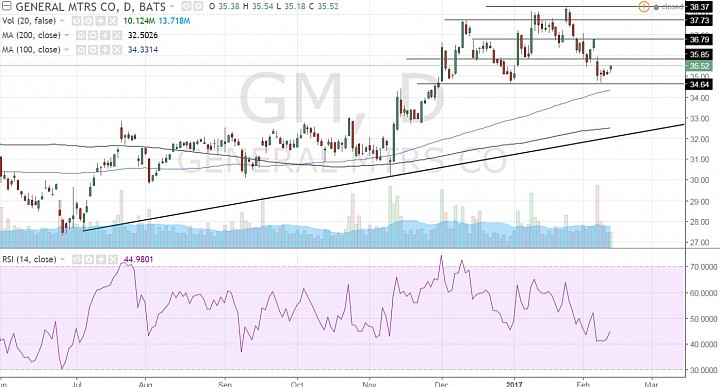 (Click to enlarge)

Consolidation:
- After price reached 37.70, GM started to trade sideways, although it made another couple higher highs in January. 
- Last week, price dipped below 35.00 and was testing the support pivot around 34.65. 
- The market held this support during the 2/13 session.
- Price is still above the 100-day and 200-day simple moving averages. The RSI is still above 40.
- All in all, the market is neutral-bullish, with emphasis on the bullish component in the short to medium-term.
Reward to Risk Assessment:
- Let's say we set up an entry at 35.00, hoping for price to dip back again. 
- A stop at 33.80 (below the current support pivot and below the whole number 34.00) would require a risk of 3.5%
- The 36.70-36.80 area is like the central area of the recent range, and would be a conservative target because the prevailing trend was bullish. (If the prevailing trend was bearish, the middle of the range would be a normal target.)
-  The 37.70-38 target is also viable, even if the market remains in consolidation.
- A target of 36.75 provides a potential reward of 5%, while a target of 37.75 provides a potential reward of 7.8%. 
- I think this trade provides satisfactory reward to risk if we can enter at 35 with a stop at 34.25.