GBP/JPY at Key Support Area 2/26/2018
GBP/JPY has been in a choppy bullish mode since Oct 2016. This might not be a sustainable bullish trend, but price action has not signaled a shift to the bearish trend.
$GBPJPY Daily Chart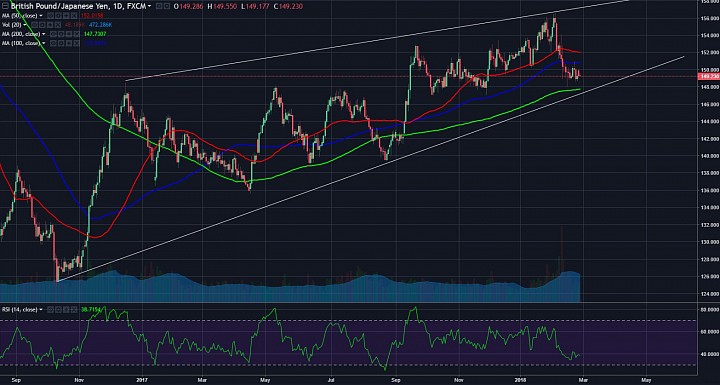 (click to enlarge)
Choppy Bullish Trend:
- The daily chart shows that GBP/JPY has been in something of a rising wedge since Oct. 2016.
- This choppiness suggests that this is not a primary trend.
- However, we have no indication that this trend is shifting.
- BUT, price action will test that bullish scenario as it dips 148.
- There is a rising trendline and the 200-day simple moving averages (SMA) .
- There is also a common support around 147,
- If price breaks below 147, it would clear these critical support levels and open a bearish outlook towards 140 and maybe lower.
- However, if price closes above 148 in the next couple of weeks, it would suggest bulls in charge. A subsequent break above 151 would further confirm bullish confirmation.
- Now, with the notion that this is not a primary trend, we should limit our bullish outlook to around 156, with maybe 158 as a maximum outlook.