DSW Pops but Has Critical Resistance Around 20
DSW Inc. saw its shares post the strongest one-day gain in its 12 year history on Tuesday (8/22) after reporting better-than-expected earnings. The report seemed to have regained investor's confidence that it is prepared for the holidays and is in good position to continue growing as it improved its online operations. Even brick-and-mortar operations might be improving as it posted its first same-store sales growth since 2015.

MarketWatch.com:
Columbus, Ohio-based DSW said it had net income of $28.6 million, or 35 cents a share, in the second quarter, up from $25.0 million, or 30 cents a share, in the year-earlier period. Adjusted per-share earnings came to 38 cents, ahead of the FactSet consensus of 29 cents. Sales rose 3.3% to $680.4 million, ahead of the FactSet consensus of $666 million. Same-store sales rose 0.6%, compared with a FactSet consensus for a decline of 2.0%.
DSW Daily Chart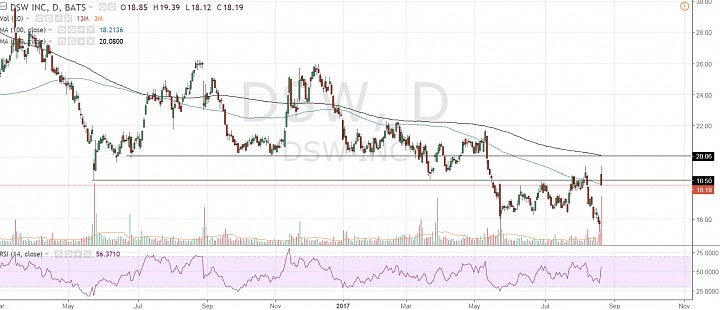 (click to enlarge)
Prevailing Bearish Winds:
- DSW has been in a bearish trend since Amazon's disriptive business model put grey clouds over retailers growth outlook.
- In 2016 price was bearish then consolidated for the latter half of the year. In 2017, price continued lower but has been consolidating since May.
- I think the latest earnings report should help DSW stop the bleeding. But upside might be limited.
Resistance Around 20:
- First let's take a look at the area between 18.50 and 20. This is a support/resistance pivot area.
- Also at 20, there is the 200-day simple moving average.
- A break above 20 will indicate that DSW can consolidate around a higher price than it has been since May.
- Otherwise, we should actually anticipate some selling here.
- I don't think one great earnings report can reverse the trend, but in the short to medium-term I think there could be upside towards 22 to 22.50 (if price breaks 20). I would limit the upside expectations. The most aggressive projection should be around 26, around the highs for the second half of 2016.