EUR/CHF - Looking at a Pure Technical Range Resistance Trade
The Euro/Swiss Franc pair $EURCHF has been on a bull run since the start of April. But the rally is still within a consolidation range that started in September 2018. I think there is a range resistance play if the rate comes up to 1.15.
USDCHF Daily Chart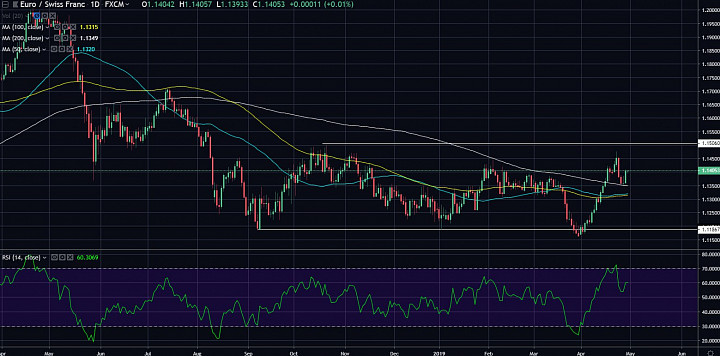 (click to enlarge)
Range:
- EUR/CHF was bearish since May 2018 when it peaked at 1.20.
- It came down to 1.1160-1.1180 area and found support here.
- However, we also see resistance at 1.15.
- I think if price comes up to 1.15, we will see a retreat to at least the 1.1350 area.
Reward to Risk:
- Let's say we set a stop at 1.1575.
- If we short EUR/CHF at 1.15, we would have a 2:1 reward to risk (assuming target of 1.1350).
- Note that this target is a conservative one that does not look for price to fall back towards the 1.1185 area.
- Normally, I would be more aggressive because the prevailing trend was bearish in the second half of 2018.
- However, I have to take in consideration of the failed bearish breaking in late March, and the fact that price is now back above the moving averages and even bouncing off the moving averages as support.
- Still, the overall price structure is still sideways, so I think there is a better than 50% chance that price will retreat back to the 200-day SMA (around 1.1350) instead of pushing to 1.1550 or higher.