EUR/AUD Bounces Off Critical Support; Resistance Around 1.41
EUR/AUD has been bearish since retreating from 1.46 at the beginning of the year. It came down to almost 1.36, which tested a critical support. Last week, we discussed buying EUR/AUD around 1.37 and the reward to risk that would go along with it.

EUR/AUD Daily Chart 3/2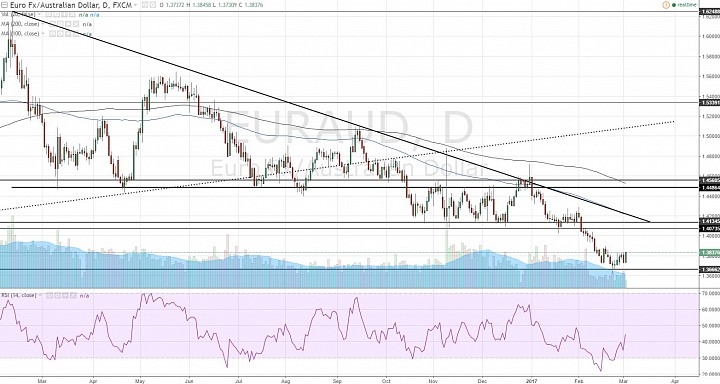 (click to enlarge)
Pivoting from 1.3660:
- So far, price has pivoted from around 1.3660, showing respect to the critical support seen more clearly on the weekly chart below.
- The 3/2 price action so far looks strong. 1.3890-1.39 might show some resistance since it was a high from last week.
- However, I think there is upside to 1.41.

Key Resistance:
- 1.41 will be a key resistance.
- There is a falling trendline and a previous support area .
- Also, monitor the daily RSI as it approaches 60. If price finds resistance at 1.41 and the RSI turns down from around 60, we could be looking at a return to the bearish mode after a brief correction.

EUR/AUD Weekly Chart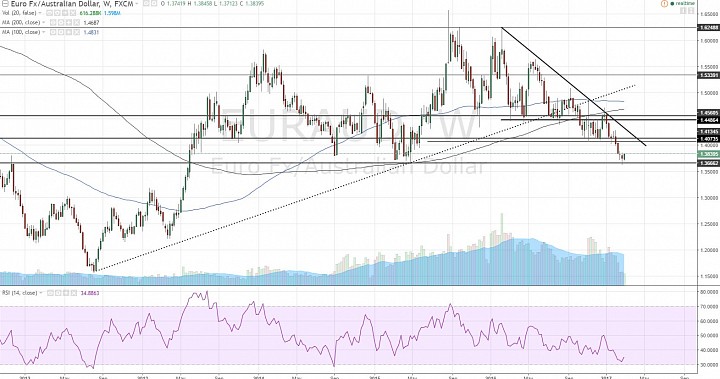 (click to enlarge)

Uncertainty:
- The weekly chart shows the critical support at 1.3660 area. 
- While we could see some buying here, it is too early to call a bullish reversal.
- I think there is more downside risk, or at least limited upside risk.
- What I would like to see is some consolidation pattern above 1.36 and then a breakout above that pattern. This would give me more confidence that the market has confidence about the support here.