EUR/GBP Completed a Head and Shoulders; But Bearish Outlook Should be Limited
EUR/GBP has been bullish since April. It came up from April's low around 0.8410 to a high on the year in August around 0.9305. We should expect some consolidation/bearish correction ahead.
EUR/GBP 4H Chart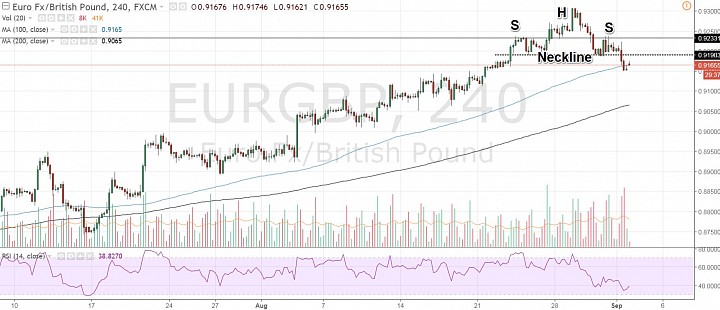 (click to enlarge)
Head and Shoulders:
- The 4H chart shows a completed head and shoulders pattern - meaning price has broken below the neckline.
- EUR/GBP is now in a bearish correction.
- When we look at the daily chart below, we should think its not surprising there is a correction.The RSI was above 70 and price was essentially around the 2016 high and resistance pivot.
- So, we have a persistent uptrend since April that has cracked a previous resistance pivot. This shows a bullish market.
- Because it looks like a bullish market, we should probably limit the bearish outlook from the current price top.
- I think the 0.88 area will be key. There is also a support/resistance pivot around 0.8860 where we should first anticipate some support.
- A break below 0.8675 however should make use re-evaluate the chart.
- Otherwise, if price does stay above 0.8860, the uptrend is intact.
EUR/GBP Daily Chart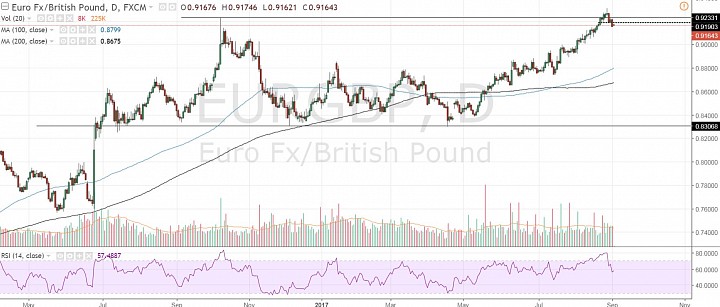 (click to enlarge)