Why I am Bearish on Tron (TRX)
I am confused by Tron (TRX), which talks about revolutionizing the internet and gave it a 8-10 year vision for certain features to be realized. What VC in their right mind funds a project that says it will have a full product in 8-10 years. That's like investing in FB when Zuckerberg was still going through puberty.

Then you have other critics of the whitepaper, which points out the whitepaper is essentially patchwork from other whitepapers, especially the section about the "native currency" TRX.
whitepaper: Tron Whitepaper (translated)
hackernoon.com critique: Tron's Whitepaper is Copied, Plagiarized
The twitter account is full of promotional material with nothing of substance in terms of the tech development.
Then in February, I see a tweet about the usage of TRX as a tip in a social media site in China.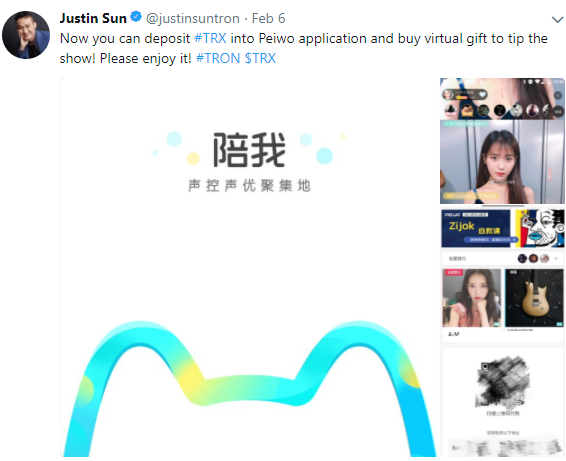 It looks like TRON is creating a solution and looking for a problem.
Hey, I am not saying this is definitely a dead-end, but when you have so many other better projects, why would you get involved in TRON other than for short-term speculation.
Then, even in the short-term, I think TRX is about to dip further based on price action.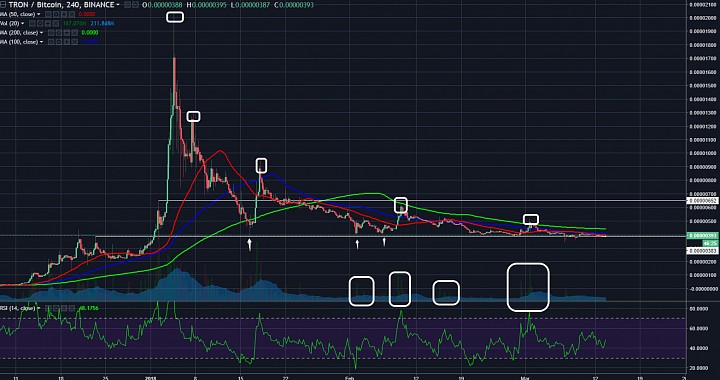 First of all, since the obvious pump and dump in January, TRX has been holding above the 350-400 satoshi level.
While holding this support, we can see that highs have been getting lower and lower, and has been holding under the 200-period simple moving average (in 4H chart) since early February.
This tells me the market is still in a pump and dump mode, but the pumps have been getting smaller and smaller.
This puts pressure on the 350-400 support area.
I think we will see TRX/BTC go under 300 satoshi in March and perhaps visit 200 satoshi in April.
From CoinPowR