Boston Beer (SAM) attempting a price bottom
I have read some recommendations on Boston Beer lately and wanted to check out its chart. I think the market is also thinking about buying up SAM, which has been in a bearish trend since January of 2015 when it hit a high of 324.28. The chart will show evidence of price bottoming after hitting a 2016 low of 146. 

SAM 4H Chart 6/22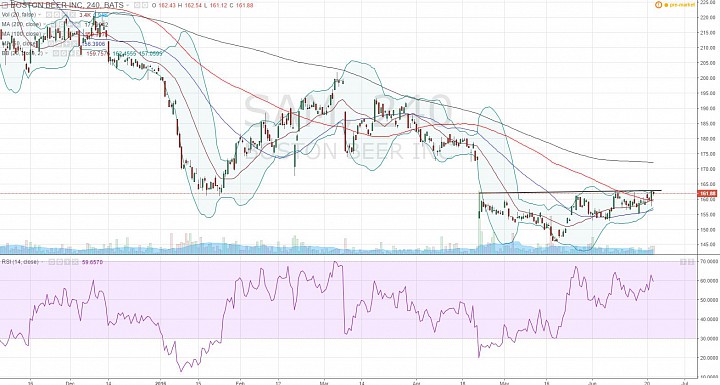 (click to enlarge)

Price Bottom: A break above 162 could open up at least the 175 level. A rally to this area will complete the gap made in April. (More on this gap later). The most bullish outlook for now should be limited to the 2016 high near 200 and will probably require some positive assessment of SAM maintaining of actually gaining market share. 

A failure to hold above 155 should be a strong sign that the price bottom is failing. This scenario would open up the 146 low again. 

April Gap: The gap you see in April reflects the market's reaction to Boston Beer announcing a 2nd straight quarter of shrinking market share. 

Boston Beer also saw depletions -- a key industry measure for how quickly its product travels from warehouses to consumer outlets -- decline 5% from last year's first quarter. According to Boston Beer CEO Martin Roper, this result fell "significantly" short of the company's expectations, led by declines from its core Samuel Adams and Angry Orchard brands.

Jim Koch, Boston Beer's founding chairman added, "We believe Samuel Adams has lost share due to the increased competition and continued growth of drinker interest in variety and innovation." (The Motley Fool)
Here is a buy recommendation from the same site:
It's been years since investors could snap up shares of Boston Beer(NYSE:SAM) for a discount against industry titans Anheuser Busch(NYSE:BUD) and Molson Coors(NYSE:TAP). But thanks to spiking competition that's sent the stock lower, the craft beer specialist is now valued at just two times sales, compared to 5 times for each of its biggest competitors. Boston Beer had a similarly premium valuation as recently as early 2015. (The Motley Fool)