GBP/USD to Test Falling Wedge with Bullish Momentum
GBP/USD has been bullish since the start of 2017. It rose from a low of 1.20 to 1.4345 in January of 2018. Since then, price has been in a falling wedge consolidation.
$GBPUSD Daily Chart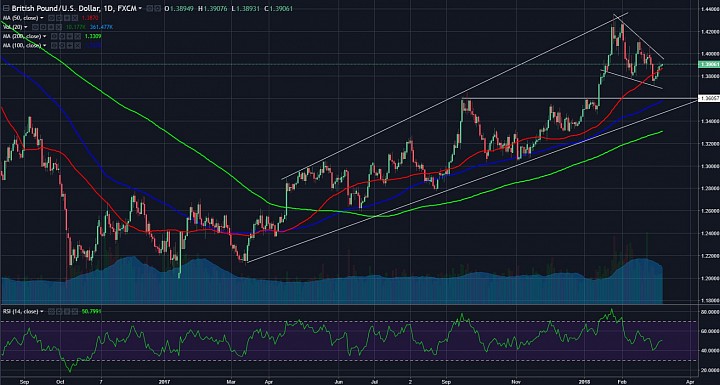 (click to enlarge)
Wedge Resistance:
- GBP/USD has been bullish in the last week and seems to be developing a falling wedge.
- Price is closing in on the wedge resistance.
- There is strong bullish momentum behind this attack.
1) Price is above the 200- and 100-day simple moving averages.
2) Price has been in a bullish trend for a year.
3) The RSI is still holding above 40, which reflects maintenance of the bullish momentum.
Bullish Continuation:
- I think if price pushes above 1.40, GBP/USD is good to go for a bullish continuation attempt towards 1.44.
- Otherwise, we can expect more consolidation within the overall bullish scenario.
Support @ 1.36
- For example, price might hold under 1.40 and retreat to 1.36.
- This will be a critical support. This was a previous resistance pivot, which should turn into support if the GBP/USD is indeed still bullish.
- Also, the rising support will likely challenge the bearish price action around 1.36.
- But let's say price comes down to 1.38 (instead of 1.36) and then rallies back to 1.40, we should have more confidence that price will break higher because it would have made a higher low last week's 1.3711 low.