USD Index - Bullish Slingshot
The US Dollar is having choppy week. But so far, it seems like bulls are in chart at least in the short-term as seen in the 4H chart. 

USDX 4H Chart 7/1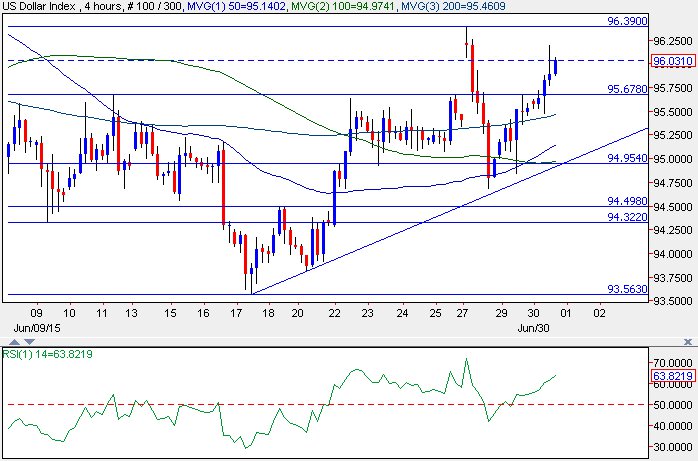 (click to enlarge)

Here are some observations in the 4H chart:
1) The cluster of 200-, 100-, and 50-period simple moving averages are moving sideways so we know there is no direction in the shot to medium-term. 
2) In the very short-term however, price rallied from 93.56 and broke above the cluster of SMAs. Then after a sharp decline to close the opening gap, price still held above the bottom of the moving average cluster. The fact that price eventually bounced back up above the cluster is a bullish "slingshot" signal. 
3) In terms of price level, the break above 95.68 at the start of the week was a bullish signal. Then, the fact that it held above 94.32-94.50 support/resistance area as well as a rising trendline adds to the bullish outlook.
4) The RSI has held above 40 after tagging 70. 
With these technical conditions, the USD Index is neutral turning bullish with risk of breaking the high at 96.40. In the daily chart, we can see that a break above 96.40 would be a bullish continuation breakout. 

USDX Daily Chart 7/1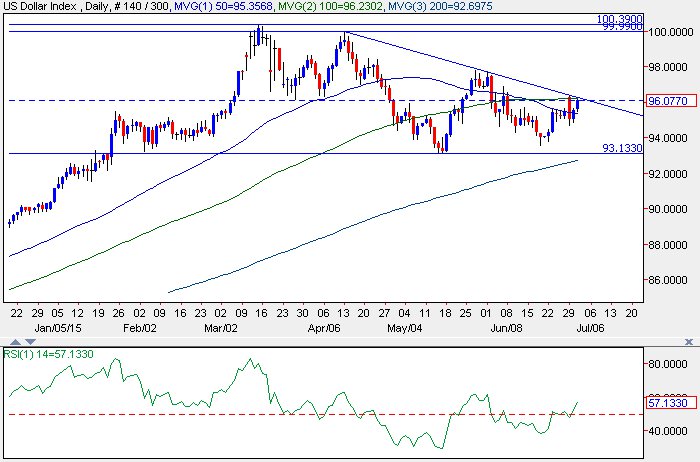 (click to enlarge)
Looking at the daily chart, a break above 96.40 would indeed break a falling speedline as well as the 100-day SMA. IT would also break above the bearish engulfing candle that started the week. IF the RSI also pushes above 60, we are likely going to see a bullish continuation scenario which first puts the high around 98.00 in sight. Above that, the 100-100.40 highs no the year will be in sight.