GBP/USD Forming a Bullish Engulfer
Last week, GBP/USD bounced bounced off a key support around 1.5170, ending a sharp decline from 1.58. Today, cable is forming a bullish engulfing candle that could signal further bullish outlook in the short-term. However, we should be cautious with the Fed rate decision due tomorrow (9/17) during the US session.
GBP/USD Daily Chart 9/16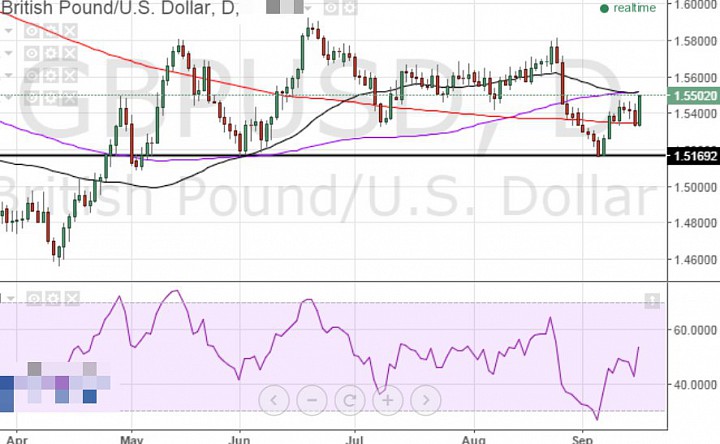 (click to enlarge)
Notes:
1) GBP/USD should be considered in a neutral, sideways market since May. 
2) The bounce off of support opens up the highs around and above 1.58.
3) With the Fed statement tomorrow, we should anticipate some stickiness around 1.55, which is around the middle of the multi-month range. 
4) If the GBP/USD closes this week under 1.55, we should anticipate some bearish bias in GBP/USD, especially if the FOMC raises rates, and leaves the room open for more rate hikes in 2016.
5) However, if GBP/USD closes above 1.55, and there was NO rate hike, we are likely going to see a test of the 1.58-1.59 area.
6) Even if there is a rate hike, if the FOMC hints that it will be a while before the next one, the market might be bearish on the USD. This would describe the "buy-the-rumor-sell-the-news" scenario.