Mattel (MAT) Has Defended Key Support, and Rallied on Top of Earnings Beat
The liquidation of Toys 'R' Us has been a negative driver for Mattel $MAT, but if we look at the weekly chart below, we can see that it has been declining since 2013 after it peaked around $48 a share.
MAT Weekly Chart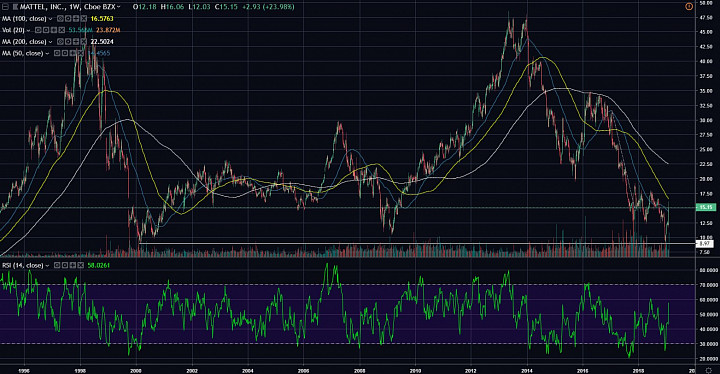 (click to enlarge)
Long-term Range:
- Note that the push above 47.50 in 2013 brought MAT into all-time-highs. But this did not last long, and the market did not sustain the bullish run that began in 2009 after the financial crisis.
- Instead, we got a full-fledged pullback all the way back to the lows around the $9-$10 area going back to 2000.
- This $9-10 to $48 can be considered the long-term range.
- So far in 2019, the market has defended the range support.

Buy the Dip?
- From a price action perspective, I am impressed by the market's support around $10.
- If price gets back here, I would buy. But I think it is possible that the market has bottomed, and won't come back down to $10.
- Instead, I think we should start focusing in the $12-$13.50 area as the new key support area.
- I am moving up to this area because the market seems to have turned positive on MAT at these price levels, especially after the latest earnings report for Q4 2018. (more on that below the weekly chart).
- I will be looking for price to pullback towards this $12-$13.50 area, and set up two trades, one at $12.25 and another at $13.50.
- I think the stop should be below $9.00, let's say $8.00. The upside could be towards $23, near the mid-point between $9 and $48. We can also see some support/resistance pivots in the $22-23 area.
- This will be a long-term trade with a risk of around 35-40% and upside of almost 100% if price gets back to the middle of its long-term range.
- Even if you set a target around $20, the reward to risk of this trade would be around 2:1.
MAT Daily Chart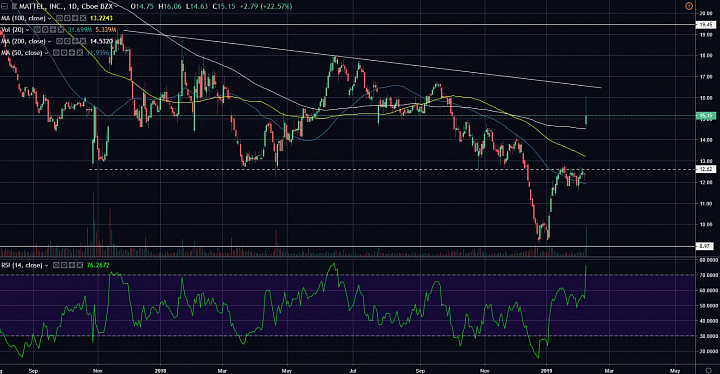 (click to enlarge)
Mattel's latest earnings got the market excited about this battered name.
According to MarketWatch:
The company reported fourth-quarter net income of $14.9 million, or 4 cents a share, compared with losses of $281.3 million, or 82 cents a share, in the year-ago period. Adjusted for items such as changes to the U.S. tax code and severance, among other things, full-year losses were $1.14 a share; it reported adjusted earnings of 4 cents a share for the fourth quarter. Revenue fell to $1.52 billion from $1.61 billion in the year-ago period. Analysts surveyed by FactSet had estimated adjusted losses of 16 cents a share on revenue of $1.44 billion, and the FactSet consensus for full-year adjusted losses was $1.10 a share. For the first quarter, analysts expect adjusted losses of 37 cents a share on sales of $702 million.
From: Mattel shares surge more than 15% after earnings and revenue beat (marketwatch.com)