EUR/GBP Trying to Break a Wedgie after BoE Inflation Report
In he medium-term the EUR/GBP appears to be bearish. In the short-term it has been choppy with maybe a slight bearish bias. However, after today's BoE inflation report, the pair is threatening to breakout for more bullish correction.

BoE Inflation Report August 2015
Bank of England Inflation Report: five things we learned - Telegraph.co.uk


From a fundamental standpoint, the BoE Inflation report perhaps pulls back the hawkish assessment some have started to put together, and this might keep EUR/GBP resilient in the short-term. But in the medium-term, I think the pound will continue to be stronger than the euro. 
EUR/GBP 4H Chart 7/28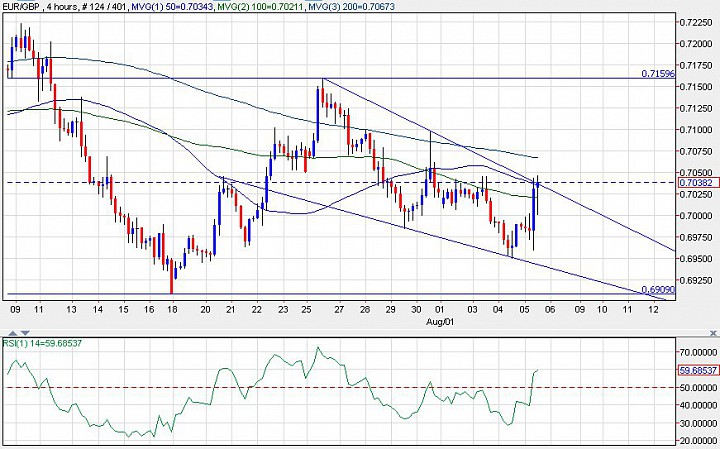 (Click to enlarge)

The 4H chart shows that after a bearish week, the EUR/GBP is now trying to break above the falling wedge pattern formed this week. Now, if price can break above the wedge and then hold above 0.70, we are likely going to see EUR/GBP return to the 0.7160 high from last week. However, if price can hold below 0.7050 for the most part and close below 0.70 at least to end the week, then bears are likely in charge with the 0.6909 low still in play.